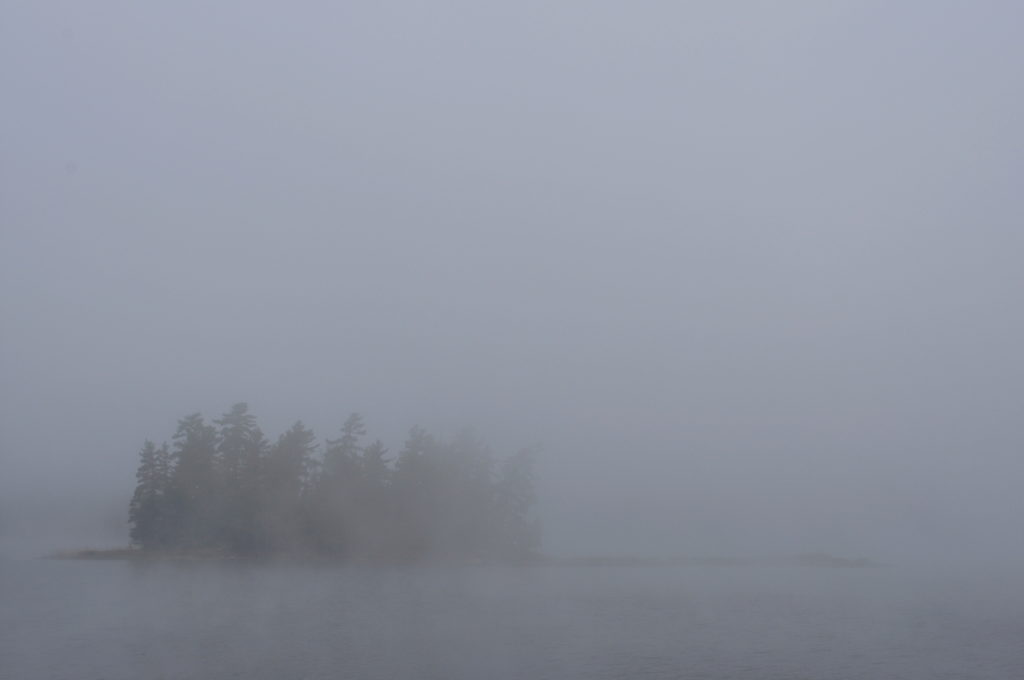 A disorienting field of gray cloaks everything. I raise my head up out of my hammock far enough to see the thickest fog imaginable. We very well could be camped on the top of a mountain. My eyes provide me with the only information available; I'm hanging between two trees. It takes a bleary second but my mind reminds me that in fact we are not alpinists but canoeists. The idea of paddling into a mysterious fog gives me the same kind of tingle that paddling into a vast Canadian wilderness does. Albeit a smaller sensation it is exciting for the same reason. One of the qualities that excite folks who explore wilderness areas is the idea that you never know what you are going to find, and I think the fog magnifies that. Excitedly I walk out to the edge of the world. Like a camera at night trying to capture the stars my eyes struggle to focus. They dizzyingly yearn for the outline of anything to hold on and give me some bearing. After a minute of scanning an area where I last saw Sturgeon Lake and finding nothing I turn back to my new 100 square foot world. Easily we come to the decision of waiting. On another day of travel we could set a bearing on our compasses and cover some water, but today's goal is Twin Falls, at the end of the Maligne River. Images of a dangerous situation quickly come to mind. Our imperiled foursome, now a threesome, gazes at our pair of ravaged kevlar canoes from atop a lone Duluth pack. I shake those gristly pictures from my mind and settle into a cup of coffee. No matter how tantalizing the thought of exploring the fog world is, it is not worth the risks of navigating a rapid riddled river. After a hearty breakfast of bacon and potato frittata and several pots of coffee the world around us expands. With each morning chore completed a new island appears. Soon we can see the near shore and as we push off into a windless day the entirety of Sturgeon shows itself. In the distance the gentle whirring of rapids brightens the eerily silent morning. We drift by what looks to be a heavy duty boiler from the Titanic before unloading at our first portage around a 75 yard stretch of life altering rapids. A short portage through a stand of swamp oak brings us to a small cove of calm water before another stretch of angry water. As our group drops gear below the second set of rapids the outline of the sun becomes distinguishable. During a group reconnaissance of the third set of rapids the sun comes out completely. Any challenge seems easier under blue skies and we decide to run them. This set of rapids is the shortest yet and offers two obstacles in the form of submerged rocks. Massive smooth bulbs of churning water hint at what's just below the surface. Paige and Liz take off first as Tori and I watch from shore. The rapids look even easier to run after they take a perfect line and make their way to shore to watch us. My heart knocks on my ribcage as we line ourselves up. The current is always more powerful than you think and within seconds we are in it. A high leaning brace is required to straighten us seconds before crunching broadside into the last bulb of water. With the sun warming our backs we breathe deep and enjoy the magic of floating down a wild Canadian river in October.
From drop to ocean following a river is like following life; the life of the river and the life of a human. Just as every river is different every human is as well, but still we both share enough common qualities that allows one to draw comparisons. Man and river are both lives in a chain of lives; each born out of their past. One can track a rivers lineage as one could a man's. Every drop of water and every relative make up who they are; each move exponentially affecting where. Just as both lives will end physically both will carry on in essence. A man's essence will in family and friends; a river in the lakes and oceans. They both came from a drop and both end in an ocean.
We met an adolescent Maligne this morning; angst ridden and angry, unpredictable and awkward. After running the third set of rapids a magnanimous stretch of water lay before us, making up for the mistakes of its past, trying to convince us it is no longer the river it was before. The Maligne widens while still keeping a swift current and occasional flat rapids remind us of its wilder days. It seems to be searching for a course as broad bends accentuate its youth. Sand beaches and towering white pines that seem to be filled with bald eagles cause us to slow our pace and enjoy the scenery. These are the best days of this rivers life. Soon we sense another tumultuous hum in the distance, swirling columns of rainbow mist, the distinct aroma of life under the surface and then a portage. As I haul packs through another stand of orange oaks I wonder where this falls fits into the life of this river. I suppose every life has a few unexpected events. Below the thundering chasm we see a mature Maligne. It is wider yet with back bays. They are filled with ghosts of summer and auspices of winter; remnants of lily pads and half submerged piles of aspen branches awaiting gnawing beavers. Occasionally along its course a riffle or two will cause us to look twice, but the current is mostly gone. The sun offers warmth as it hangs overhead and we strip layers. At the marriage of the Maligne River and the Pooh-Bah Creek is Tanner Lake. It starts out as a wide river before blossoming into a full blown lake with islands. It's slight, reed bordered shorelines suggest a lack of depth. Pangs of hunger send us digging into the food pack at the portage around Tanner rapids. The river has approached this mid-life crisis with grace. It is a wide picturesque set of rapids that holds the eyes and eases the mind. Below tranquil Tanner rapids the Maligne shows its age. Without a hint of current we move down the widest section yet. Sections of blow down and wild fire scar the shoreline. A campsite comes into view that does not appear to have been used in years. Ragged dead jack pine lines the edge of a weed choked opening. Hazy cirrus clouds blur the now low hanging sun's rays and wash the world in amber. We move farther west into grayness as thicker clouds obscure the entire sky. Our minds are ready for camp, but the Maligne has one last surprise. Within half a mile of Twin Falls the river narrows again because of a few islands. On both sides of the constricted waterway lichen covered Canadian Shield juts out of the river at a 45 degree angle. Our eyes follow the ancient ramps of rock skyward until they meet with towering stately white pines. Despite the dying gray light everyone is enchanted by the boreal tunnel. We spend the last few moments on the Maligne in silent reverie. The portage around Twin Falls leads us right into a magnificent campsite. It sits immediately adjacent to the spectacular and unique waterfall to the north of the island that separates it from its twin. What a way for a river to end. Instead of meandering into a vast and diffused delta it relentlessly jounces through two jagged canyons into a roiling pool below that surely holds hoards of fish in the spring. After setting up camp I spend a moment alone at the bottom of the falls. My eyes focus on one section of water and follow it as it cascades and swirls over piles of rock before bobbing out into the pool below where it ceases to exist as the Maligne River. I watch the culmination of a life. With night closing in I climb back to camp and open the 16 year old scotch and celebrate. We celebrate the life of the Mighty Maligne.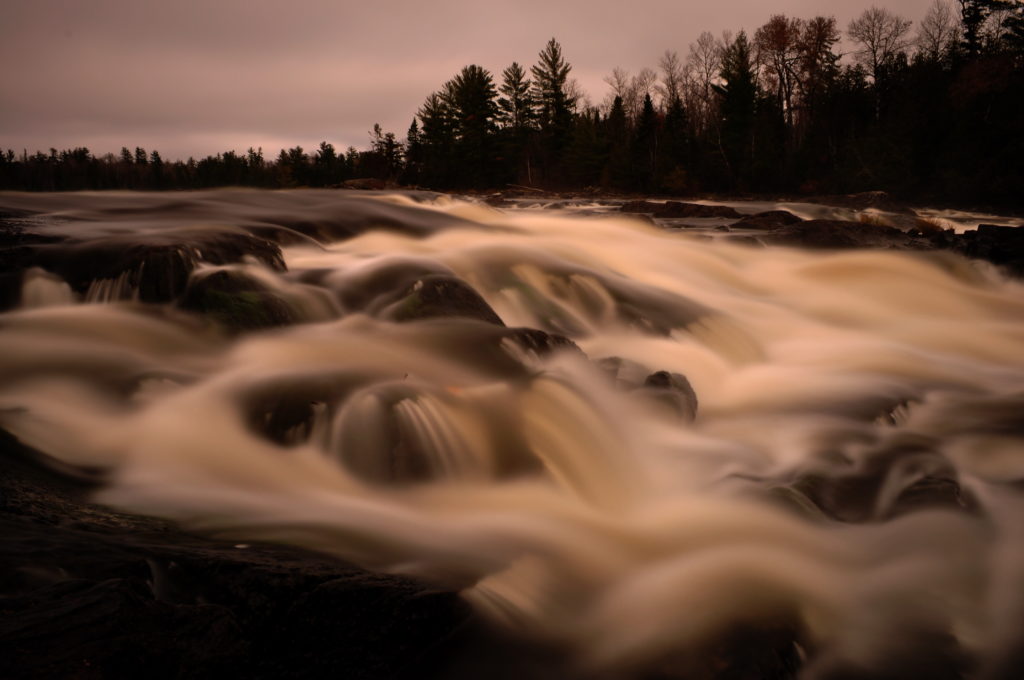 It feels like summer as I crawl out of the tent. Pure beams of golden light probe the spaces between the trees and an unblemished blue sky overhead invigorate more than coffee ever will; riparian life teems. A gushing river that dumps into a deep swirling pool must be a paradise to the few who remain. What a scene this place must be on a morning three months from now. I image it to be white. A morning like this increases expediency and within seconds we are on the water. We return, quickly pack camp and within minutes we are back on the water. Today we will paddle Lac La Croix. One of the largest patches of blue on any map you use to navigate this section of the world is Lac La Croix. If you were to ask me to assemble a list of lakes I might like to paddle in late fall, this beast would be second to last, just above Superior. Something about it still draws us though. Our planning could have easily routed us around the potential disaster, but here we are poking around in its back bays waiting for its jaws to unhinge and swallows us whole. I am hyper-alert to any wind as we try to figure out which side of Bell Island looks best. The faintest breath of wind sends my thoughts reeling. We are only a week removed from our harrowing battle with Hurlburt Lake. There are islands the size of that lake on Lac La Croix. Another branch wiggles in a breeze and my eyes latch onto it trying to discern which direction it is coming from. "Don't breathe so hard Tori!" Unfortunately we decide to traverse the waterway south of Bell Island. I feel like we are living out some horrible cartoon where the tiny rivulet of water slowly shrinks until nothing remains. Eventually we have to portage atop a field of crusty rocks and acrid muck that screams giardia before reaching open water. The one canoe width lane of water protected us from wind and the idea of wind. As we moved out into the maw of La Croix I realized there was no wind. Suddenly our tiny white canoes move unimpeded over glass calm waters under clear blue skies. Again it feels like summer. We spend the rest of the morning and early afternoon paddling close enough to hold conversations. After passing Dog's Point we move south and then back east before stopping on a sandy island just across from America, just to explore. Our route mingles with the international border for a moment before probing the narrows ahead of Black Robe Portage. Temperatures climb into the 60's as our feet pilot hunched bodies across the portage into McAree Lake. We discuss the esoteric origins of Black Robe Portage over hunks of dry salami and cheese before aiming our bows to the northeast and dragging spoons through placid waters in hopes of hungry trout. After a leisurely paddle we disembark troutless at the portage into Minn Lake. A copy of earth and sky in the waters of Minn greets us on the other side and we doff t-shirts for the last time in October (unknowingly). Our loose itinerary has us exploring the twists and turns of the Darky River tomorrow so we search for a campsite just above it. South of the Darky a slab of angled Canadian Shield looms. From a distance it displays no obvious signs of previous campers, but upon landing and exploring up the slope where the rock meets the wood we find a nice flat spot that has seen humans in the past. Hammocks are assembled before rearranging hulking chunks of rock on the tip of the island and preparing the evening fire. Dead calm waters and clear blue skies beckon us to the water's edge to watch the sun drop.
On the shores of Minn we notice the stillness, the silence. There is a deeper sort of silence that exists late in fall this far north and if measureable would be absolute zero. It penetrates and sinks into your chest like that feeling you get while standing at the edge of a cliff. Most of the birds have made their way south and this windless evening puts into perspective the absolute cacophony that is spring. It makes you wonder about all the other times you've commented on how quiet it was when really it was just quieter than the city. I think the constant prevalence of noise, no matter how slight, keeps us balanced because in its complete absence I find myself immediately disoriented and feeling the need to sit down. Not disoriented in a sick or dizzy way, just a little overwhelming because when one of your senses has nothing to sense the other four are heightened. But, if you listen long enough you will hear it. Sitting on a billon year old rock as the last sliver of sun fades you hear it, a ceaseless whirring. In the absence of everything the ears may be compensating, but it's not ringing. It is a great distant whirring that embraces all, and then I know, it is the spinning of the earth itself.
Like most warm evenings on the water a slight breeze kicks up moments after the sun sets. We spend the rest of the evening basking under the infinite amphitheater of our universe. The moonless night reveals a spectacular milky way. I am glad we take the time this evening to enjoy it, because it will be our last opportunity in October. Finally we make our way up to the hammocks and I take one last look into the void before spinning off to sleep.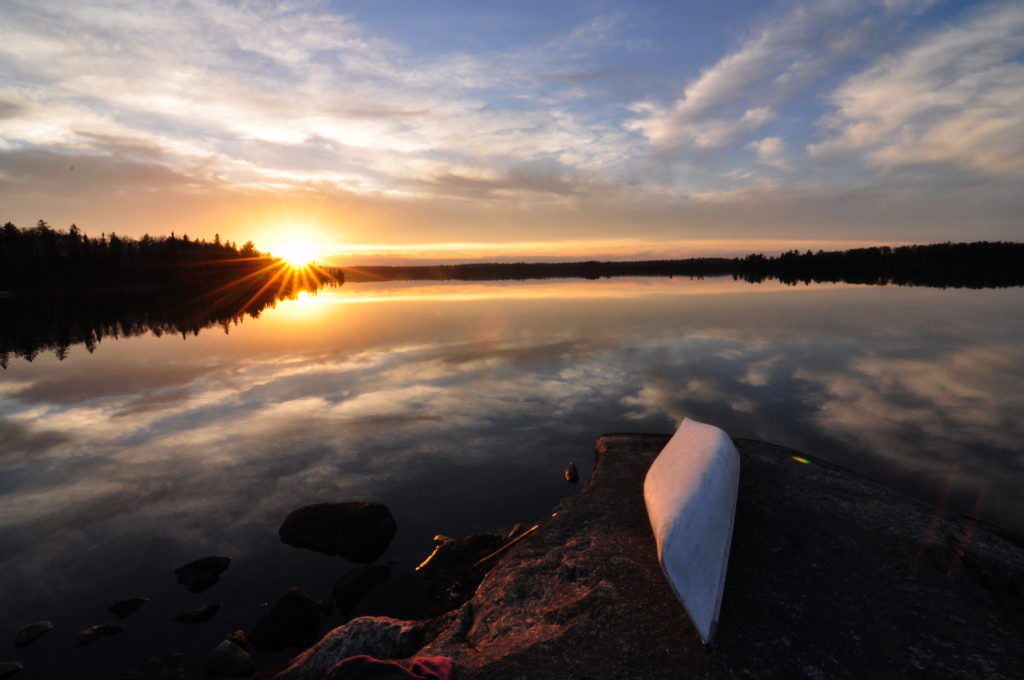 My ears wake me. Something close is moving through the carpet of crunchy leaves. As I shift to get a better look a blurry racket of feathers and flapping blasts past me before reassembling into a distinguishable creature upon a limb 10 feet above me. I curse the silly ruffed grouse as my heart beats through my ribcage. Under impending gray skies we pack, and I consider where a grouse alarm clock would be most useful; high school classrooms and coma wards come to mind. The mouth of the Darky is shallow and choked with rocks. We stand piloting our canoes like gondolas and reach our first portage hoping the worst is behind us. One more stretch of painting the rocks white and another short portage are polished off before we reach a wider more amiable Darky. Winds pick up causing the vast stands of dark spruce crowding both shorelines to dance wildly. It's a wonder they don't snap. Occasionally a gust a wind will snake its way through the trees and blast us from ever changing directions. Last summer's dying lily pads grab our paddles and cling to the bow of our boats making for slow progress. We frustratingly dig in our paddles cussing at the lilies and the erratic winds. It is not the picturesque day on the mystic Darky River we all envisioned. We turn south and finally the river widens enough that the grasses and lilies loosen their impish grip. As the vegetation diminishes the waters become clearer and within a half mile we can see straight to the bottom. A sand bottom no less. It may be the only sand bottomed river of such clarity I have ever seen. I scan for trout. On a sunnier day I surely would have spied a couple. Our last portage of the day may end up being the most memorable. The portage follows a more turbulent Darky than we have seen. It drops and crashes into a pile of boulders settles for moment before matriculating gracefully through a field of smaller smoother rocks. An intimidating black wall of rock towers over the whole valley and a few ferns cling to life. It must be lush with life in the summer. We spend over an hour exploring and photographing before a persistent sprinkle sends us back to our canoes and on our way. The sprinkle turns to rain and we gather wood along the way before settling into an island site on the north end of Darky Lake. The world at this point is variations of gray.
Saw, split, stack, and repeat. Soon we are the only 20' X 20' dry patch for miles and enjoying it. With a roof over our heads and hot tea in our hands the rain seems quaint, after stoking a fire and sipping some whisky it's downright laughable. During the dinner preparations we crank the weather radio… tonight: rain in the evening then rain overnight lows in the 40's. For tomorrow: rain, followed by periods of heavy rain, for tomorrow night: rain. The decision to stay in camp tomorrow comes quickly and easily. We spend the rest of the evening enjoying a little more to drink than usual knowing we can sleep in. When I tell people about the rain and cold in October they crinkle their noses and furrow their brows, "Oh no, that sounds downright terrible" they say. But when I'm sitting next to a roaring fire sipping on tea and whisky with friends, knowing we are the only tiny spot of dry warm light in an otherwise black wet wilderness, to me that sounds downright pleasant.