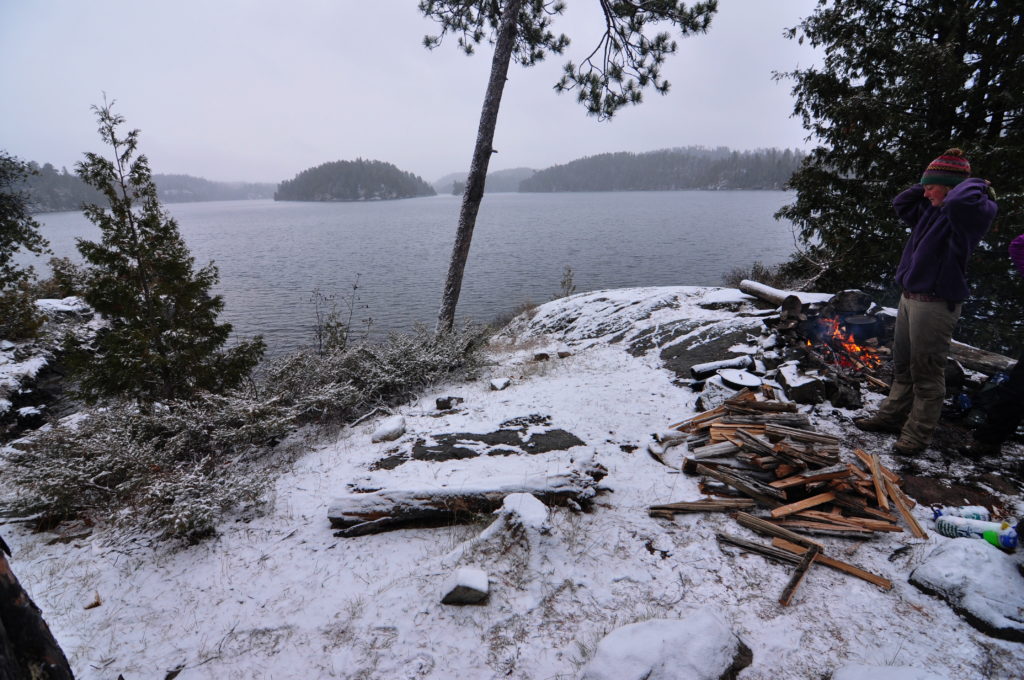 My eyes and mind adjust to the confusion of oriented strand board as I wake. It takes me a second to recall my surroundings. We squeeze out of our narrow bunks and begin packing yesterday's purchases. Our story may have included a weary retreat if it had not been for Jim and the people at Canoe Canada Outfitters, we are forever grateful. As we leave the last warmth we'll feel for days a gray pall eats everything in sight. The icy air burns our nostrils and we feel silly carrying paddles. One last donut and one more cup of coffee are savored before we commence our inevitable march towards the woods. We march the two miles out to the highway realizing our luck hitching a ride seems to have vanished. Feelings of ridiculousness are exacerbated when the sky opens up and throws quarter size lumps of snow towards the earth at stunning speed. Standing in the midst of a sudden snowstorm on the side of a desolate Canadian highway our helpless, hapless foursome can't help but laugh. At least were not in canoes. The number of passing cars accumulate with the snow. Perhaps they can't see us in the whiteout. Finally we are picked up by a truck whose driver offers us his living room and hot showers. We again are overcome with the generosity of some Canadians, and ponder how many Americans would pick up a group of four strangers on the side of a highway and offer them their home. Assured that we have the essential skills and knowledge to survive the current conditions our driver deposits us back at the Nym Lake access. He is the last human we will see for 11 days. Almost immediately upon sliding canoes back into Nym the extended snow squall blows south and a magnificently warm sun appears. We retrace our previous day's route and by mid-afternoon find ourselves back at camp, where we finish our pizza. Pizza on a snow covered island in Quetico tastes better. The rest of the day is spent warming ourselves next to a roaring fire, reading passages from "A Short History of Nearly Everything" by Bill Bryson, and consuming large quantities of tea. Our half French, half English weather radio report forewarns of continued cold temperatures and we mentally prepare for a night in the single digits. Such a dismally frigid forecast once again makes us question the reasons for our presence in these parts. Geographically speaking we are as far away from home as possible at this point, so we have no easy exit strategies. Darkness and cold seem to diminish the warming effects of the fire and we quickly make our moves to sleeping bags. Zipping up once again I know we have no choice but to endure the cold and hope the lakes stay soft. Enduring cold temperatures seems easy when compared with the possibility of suffering through a maze of frozen lakes in canoes.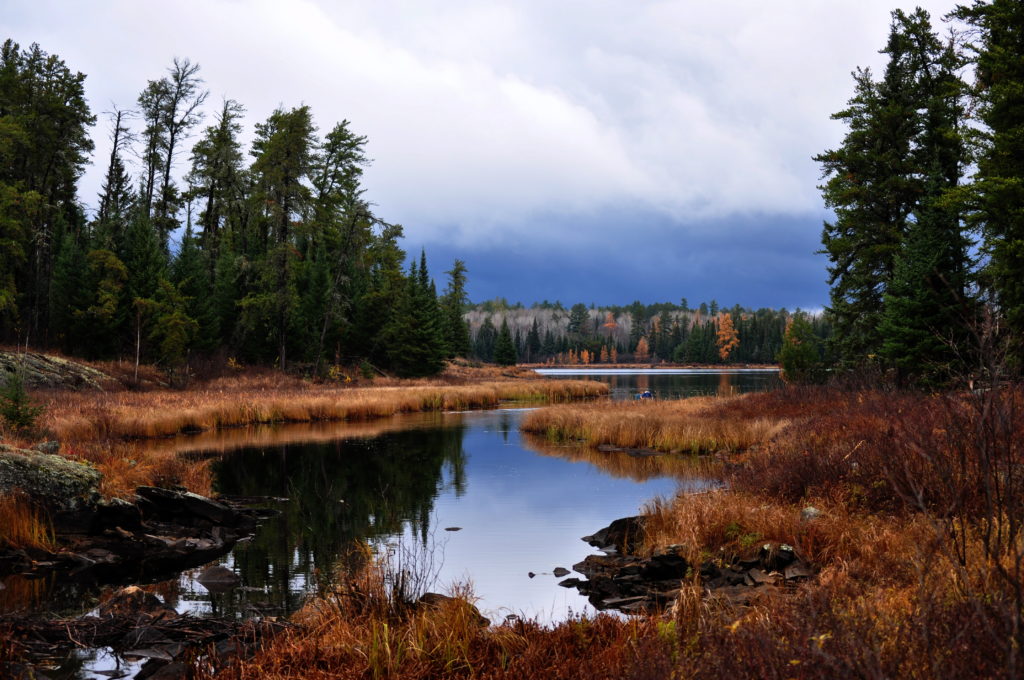 Everything is still. Last night's hard frost has sapped the life from everything but the water, the clouds and us. We tie no knots. Any pedantic movements of unsheathed metacarpals are sluggish in the anesthetizing morning air. Only a fleeced covered hand will do. Crispy gear is wrestled back into packs under teasingly clear skies; they make it look a lot warmer than it actually is. We turn our backs on the island we made home for three days and point our canoes south towards our next. A weak sun lethargically climbs over the trees at an even shallower angle than yesterday. Our morning's route will lead us back through lakes we had paddled two days prior. Back down Batchewaung, into Maria and across the boy-scout manicured portage into Jesse before veering west down towards the "Cedar Portage" into Oriana Lake. Backtracking over previously travelled territory is never as exciting as laying eyes on new country, but we persevere. The last mile of Jesse is the first lake we have encountered with noticeably higher water levels, and for a moment we wonder why before a massive beaver dam comes into view. A frozen slick of muck makes dealing with the obviously new portage path actually much easier. Slogging through the viscous slop in August would be a drag. Effects from the cold seem friendly for only a minute as we reach the creek on the other side and find it eerily calm; closer inspection reveals the dead still creek is frozen. Nervous eyes stare out at hummocks of swamp grass dancing innocently in a growing south wind. The lifeless black creek waits idly under deceptively clear skies for our next move. We drive empty canoes into the ½ inch thick ice and load gear. Canoes grating against sheets of stubborn ice distort the senses. Vibrations cause the hands to question whether or not it's worth holding on to a paddle, quickly they wonder if it even exists at all. The relentless crunching, grinding, and breaking of ice drown out the silence, even our thoughts are shouting. Forcing a canoe less than 400 yards through a slightly frozen, lily pad laden creek is more exhausting than any gust of wind we have encountered yet. Our voyage is but half-finished and already we find ourselves battling ice. Surely temperatures will improve. At the end of the creek we are forced to grip clumps of grass and drag ourselves onto another slab of frozen mud and rock, our portage. It is the oddly named "cedar portage" and after the first haul we are happy to be moving towards Oriana, as it drops the entire way to a mucky trickle posing as a creek. Somehow it does not appear to be frozen. We discuss the confusing lack of cedars in the area over lunch, and plan our attack on this muddy imposter. Again the only way is forward. Paddles cut into chunky mud and slowly our canoes pick up momentum. A layer of rotting downed ash trees just below the surface unleashes a torrent of angry paddling and language. Paige and Liz come to a complete stop in the mess, and upon probing with paddles are unable to find solid ground; they are marooned. Tori and I have a bit of drive left in our canoe so we have to keep moving. The loathsome creek at last releases us into waters deep enough to float, and shortly we are joined by our previously stranded partners. Quickly we cover the remainder of Oriana, and make our way over two short portages into Quetico Lake. Long gusts from the south and even longer shadows prompt a search for a home. Two spots are deemed unworthy before we find a spot on a point just north of our portages south into Jean. The wide open site holds a massive stand of old growth red pines. Open lanes of pine run a ½ mile back into denser forest. They stand waiting, ostensibly yearning for loose cowboy hats to come bouncing and rolling along the ginger colored carpet of needles. Our knit stocking hats hold on tight in the heavy winds to the chagrin of the hat eating woods.
I love fire. Growing up my fascination with the simple chemical reaction caused my family to surmise a future occupation in firefighting, or pyromania (seems more like a hobby). At a younger age it was the destructive power of it that enamored me; which I think is the case with most boys. Older, possibly wiser, and standing on the wind whipped shores of a wild Canadian lake in October I realize it is fires utilitarian virtues that mesmerize me. Four or five properly prepared pieces of timber set aflame can ward off the drowning blackness of a 1 million acre wilderness. We meticulously gather, saw, and split the best wood we can find for the long night. The freedom of fire pits in Quetico allows us to align rocks to best suit the wind and the size of our group. For some reason most of the fire areas at sites in Quetico are built up on top of years of rocks and soot, which does not allow for easy access to heat. Our best guess at the reasoning behind these shrines of fires past is temperatures and age. We suppose most people are sitting around fires in warmer months, and only need the fire for preparing food or setting a mood. Also, older campers like to sit up off the ground. The long cold nights of October require the fire to be right in front of us. Camp work usually involves a major overhaul of the fire pile, lowering it, and widening it so our entire group can sit around it. Any dreary spirits are boosted nightly by well-lit fires in hand-made hearths.
In the calm behind our wind block eggs are scrambled while bacon crackles. Combined with rice and beans and stuffed into hot "grande" size tortillas we gorge on breakfast burritos. Strangely the south winds pick up as the night exacerbates our fatigue. More wind blocks are constructed in front of hammocks and we fall asleep realizing our string of bad luck is persisting.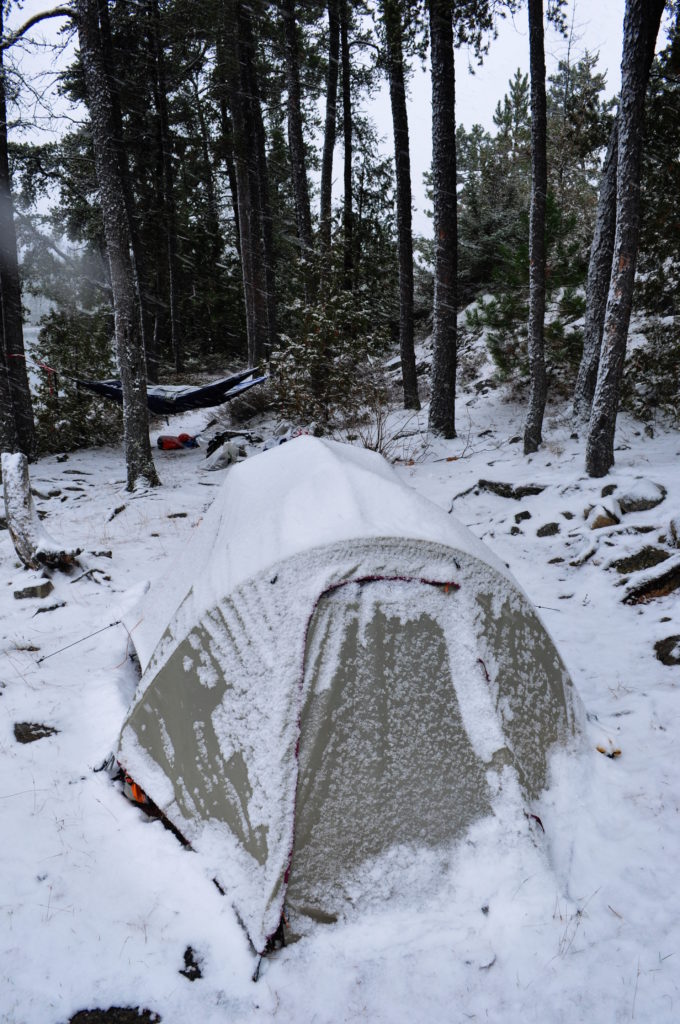 Gray traces of morning sneak through the cracks of my eyelids while persistent winds gush out of the south through the evergreens and birch skeletons above. The gusts of late fall moving north through leafless limbs and pine boughs create an eerily subtle noise. Generally one feels the winds of fall before hearing them. While the gentlest summer wisp atop an ocean of leaves produces velvety ebb and flow that overwhelms yet comforts, it takes whistling gales through the bare branches of late fall to produce an unsettling sound. We linger in warm sleeping bags troubled by the sounds of tough paddling, and in doing so decide to wait out the wind without speaking a word. Periodically dozing off on a lazy morning is one of life's simple joys, swaying cozily between two trees in Quetico it's as good as it gets. The bliss is fleeting and by late morning our foursome is upright and packing slowly. By noon the winds have diminished enough for us to consider vacating camp, and by one we are unloading at our first portage into Conk Lake. It is a short climb over bare rock alongside a cascading creek. We make easy progress across the calming waters of Conk and carry over our last portage of the day into Jean Lake. The dense ceiling of gloom we had come to know over the past week is lifted away as quickly as a quilt from a couch and the sun is surrounded endlessly by fresh blue skies. As our two white boats slide eastward an unfettered sun entices us to make camp early and take advantage of the rare warmth. A number of obvious sites are scrutinized before settling on a south facing site with a sand beach. We enjoy lunch under the warmest sun in over a week. The rest of the day is spent relaxing in a summertime state of mind; lounging in the sun with a book and a smile.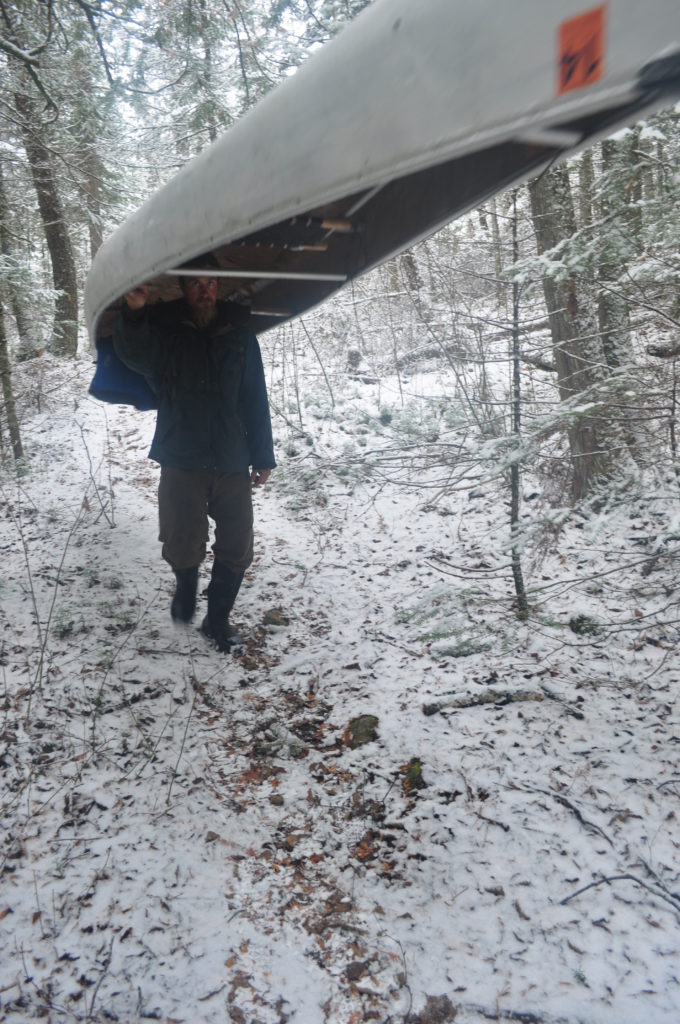 Unusual snorts and gasps from the water wake us early. A new blanket of featureless gray clouds moved in overnight, dampening the day's first light as we search for the source of the strange sounds. Quite puzzled are we after a short search reveals two swimming and presumably fishing otters as the source. During our morning rituals we discuss the anomalous otters and how a mammal that has evolved to make the water its second home is apparently struggling in it. We posit that perhaps it is young or disabled and spend the rest of the morning mimicking the ridiculous sound. Most likely it is something altogether normal that we do not fully understand; which is usually the case with most unexplained sights or sounds in the woods.
Sturgeon Lake is our goal for the day, as to set up for a paddle down the Maligne River. Our portage into Burntside Lake is short and flat, ending at an abandoned cabin and a slight beach. Nothing remains but the footprint. As we explore the ruins my eyes wander over an outline of the structure that I know existed. My mind wanders over an outline of the past that I want to exist…
The fog on this damp cool morning keeps a greying old trapper inside longer than usual. His equally grizzled husky knows why and remains curled tight near the stove. Through the door of their massive iron stove comes the subtlest signals of time. A glowing orange wedge of carbon shifts and crumbles like glass, unifying the bed of coals and raising two sets of eye brows. Finally he stands, slugs the dregs of his coffee like a shot of whisky, and whirls a blood stained canvas jacket over his shoulder. The old husky bolts upright and trots towards the door before slowing and settling into a grand stretch. His back arches and his paws extend while a quiver starts at the tip of his stiff tail then shutters quickly down his spine before spreading out towards pointed ears. It is an enviable stretch that would refresh even an on looker. Trapper and companion move out of the warmth and into undistinguishable fog. For a moment the sun hints at its existence like a flashlight pressed against a bed sheet. Both know it will lift. A handmade ladder is collected and propped against a small shack on stilts. Each step creeks and bows as he climbs. At the top a small door swings open and despite the fog dense smoke billows out like a drop of dye in water engulfing his upper half. Sweet moist smoke swirls around the old trappers face, and he smiles. The huskies nose points skyward and twitches to and fro. Four racks of white fish are flipped and fresh cedar shavings are added before he carefully descents from his smoker in the sky. The two move down a well-trod path before the trapper flips his old wooden canoe and slides it into glass calm water. Instinctively the husky scrambles to the bow, where he sits and waits. Their craft moves swiftly and quietly out into the chill. As the sun climbs a little higher and breaks through the shroud once more they turn into a narrow slip of bog and disappear.
Our foursome moves south down Burntside Lake, a lake we all wish we could stop and explore more. Numerous islands and back bays beckon, but we press on towards Jean Creek. At Rouge Lake we bear east and head into the creek. We all have some misgivings about creek travel. Today the sun shines and we are lucky enough to be traveling downstream through a creek filled with enough water. We curse no beavers while floating the flooded sections before spotting a dam and building up enough steam to shoot halfway over. Surely it would be different had we been traveling north. Our two canoes met a little resistance in the form of sand bars as we entered Sturgeon Lake and took it as a sign to indulge ourselves in a floating lunch. Again the sun appeared and for a brief moment we paddled shirtless. After so much time paddling in the fall I am still surprised at how fickle October is. The days are quickly growing shorter and we have to find a site. A huge bald rock calls out to us from across the lake. The sun is shining and the winds are calm so it seems like a great idea to check out this exposed, elevated campsite as it will give us an incredible view down the length of Sturgeon. We find the view from the site stunning and decide to call it home for the night, just as the winds pick up. After setting up hammocks back in the woods we realign our campfire to mitigate smoke and wind. As the wind increases I wonder if we made the right choice in calling this frigid chunk of Canadian Shield home. It is a lovely site but I will always look back on it as one of the worst, considering the wind. After grilled cheese tomato soup and a spot of whisky we climb into hammocks. Swaying in the darkness I cling to fleeting consciousness and swear I can smell sweet cedar smoked whitefish on the crest of a breeze.