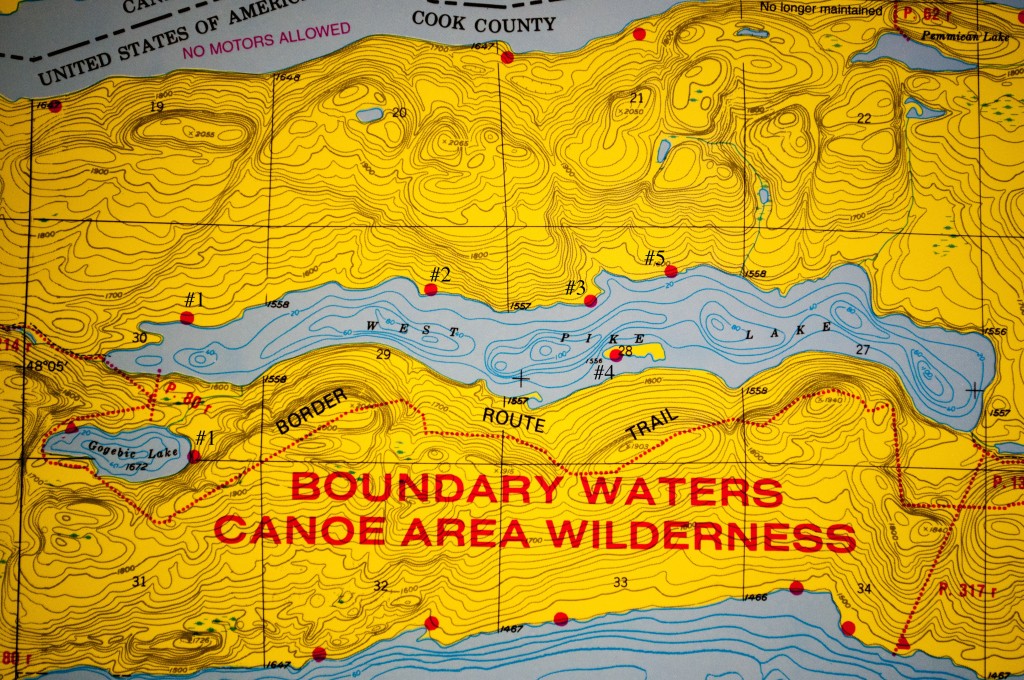 West Pike Lake is a long, narrow and beautiful lake which can be accessed from both east and west ends.  The quickest way in is from Clearwater Lake using the 214 rod portage.  Fishing on the lake is predominantly for Lake Trout and Smallmouth Bass, but recently large Northern Pike have been caught.  The lake is popular in the spring because of the trout but can be a quiet place later on in the summer when people are looking for walleyes.  The campsites on West Pike are amongst some of the nicest ones in the area.
Campsite #1
Tent Pads: 3  |  Landing: C+  |  Fire Grate Area: C+  |  Overall: C+
West Pike's first campsite is pretty standard fare for a Boundary Waters campsite.  There really is nothing about this site that stands out, but it will offer you a solid fire grate area and multiple flat tent pads.  It is a bit up in the woods so it does get buggy.
Campsite #2
Tent Pads: 3  |  Landing: B-  |  Fire Grate Area: B+  |  Overall: A-
The second spot on West Pike is a classic one, a large flat area surrounds the fire grate and sites under a stand of nice big Red Pines.  Hammock options abound while 3 solid yet spread out tent pads can be found on this breezy point.  No views of other campsites make this feel secluded after the sun goes down.
Campsite #3 
Tent Pads: 2  |  Landing: C-  |  Fire Grate Area: A  |  Overall: B+
The third campsite halfway down the lake on the north side sits up on a nice high point looking east down the lake.  Beautiful views down the lake make up for the poor landing options.  Even though the site is quite large there are only two medium sized tent pads and a number of trees for hammocks.
Campsite #4
Tent Pads: 3  |  Landing: B  |  Fire Grate Area: B  |  Overall: B
The island on West Pike is a highly sought after spot and thus heavily used.  This makes for nicer, more flat tent pads and finely crafted camp "furniture", but it also increases the presence of rodents.  The feel of camping on an island makes up for almost anything that is wrong with this site.
Campsite #5
Tent Pads: 3  |  Landing: C-  |  Fire Grate Area: C-  |  Overall: C-
The last spot before the portage into East Pike is a less than average campsite.  A small boulder ridden landing leads to a fire grate area that is on a bit of an angle.  There are three tent pads which is nice, though one of them is at the bottom of a hill in a bit of a bowl, so beware setting up here in the rain.
Gogebic Lake Campsite #1
Tent Pads: 1+  |  Landing: B  |  Fire Grate Area: A+  |  Overall: A
The amount of work involved in accessing this stocked brook trout lake in the sky keeps most people away from actually camping on this site.  The lake gets fished occasionally by day trippers and the site get used for shore lunch more than anything else.  If you are willing to hump packs and canoes up the ridiculously steep portage from West Pike you will be rewarded with a special night at a very cool campsite.  It's the only site that sits on the lake, and the flat shale like rocks that are along the shoreline make for nice camp amenities and furniture.  Keep in mind that it is extremely small and can not accommodate more than one medium size tent.