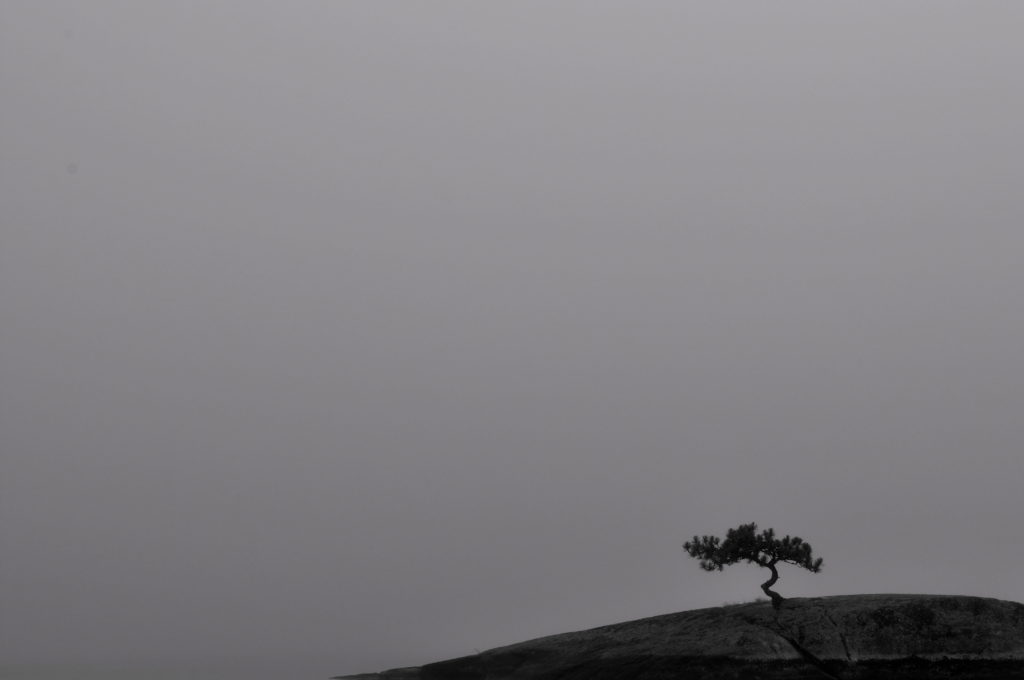 Periods of heavy rain assault our tents throughout the night. We linger in our sleeping bags listening to the wet world. For now we are warm, dry and satisfied. We try not to think about the inevitable. Eventually the rain wears us down mentally, never letting us forget about all that water we have been drinking. Finally we are forced to emerge from our tents and plunge into the rainforest to relieve ourselves. We spend the morning adjusting camp to the swamp that popped up overnight. A nice long breakfast next to the fire turns into a nice long lunch. Early in the afternoon the rain begins to taper and our paddling arms start hankering for adventure. On the map we notice an unnamed lake to the north of where we are camped and decide to head out on a day trip. The map shows three portages between Darky and the unnamed lake. Initially I am incredulous as the portages marked on the Fisher map are straight red lines with no distance marked. Usually the existence of such marked portages is historic at best. The official park map also shows two portages leading to our goal which gives us confidence. We strike off into the quiet gray afternoon. The first portage is right where it is supposed to be and a short carry drops us into a high wide creek. Dark blue walls of clouds drift silently by overhead as we casually make our way up stream. The creek bends a few times before narrowing and climbing steeply up a hill alongside our next portage. It is a steep slick climb but surprising well-trod for a portage leading to a dead end lake. After another short paddle on the creek we easily find our last portage into the mysterious unnamed lake. Dead end lakes always intrigue me, especially ones in the heart of Quetico. Why are there portages leading to them? Visions of monster walleyes that have never seen a lure breaching the surface and winking before leading you off to a six star campsite nestled under virgin pines alongside a babbling brook come to mind. In reality our double secret trophy walleye hole is a shallow muck pot surrounded by uninterrupted bog. It is still a charming lake, but there is no way it holds anything larger than a crayfish. We slowly circle the entire shoreline and find nothing resembling even a ½ star campsite. On our way back down to Darky I keep wondering why there are well used portages leading to a fishless, campsite free mud hole. We glide gently back to camp under darkening skies before settling in next to the fire for the night.
As I lay in my tent listening to the periods of heavy rain resume I think about that mud hole. Maybe it doesn't have to contain any fish or incredible campsites to still have something to offer. I realize we have been overthinking it. We ventured up to an unnamed dead end lake in hopes of fishing and maybe a neat campsite, but deep down I know we went up there for something bigger, yet simpler. It's the same reason were on this trip, because it's there; and in experiencing it we can better understand it. Staring at maps can only get you so far. This morning I knew there was an unnamed lake separated by three portages north of Darky Lake. Now I know what it looks like.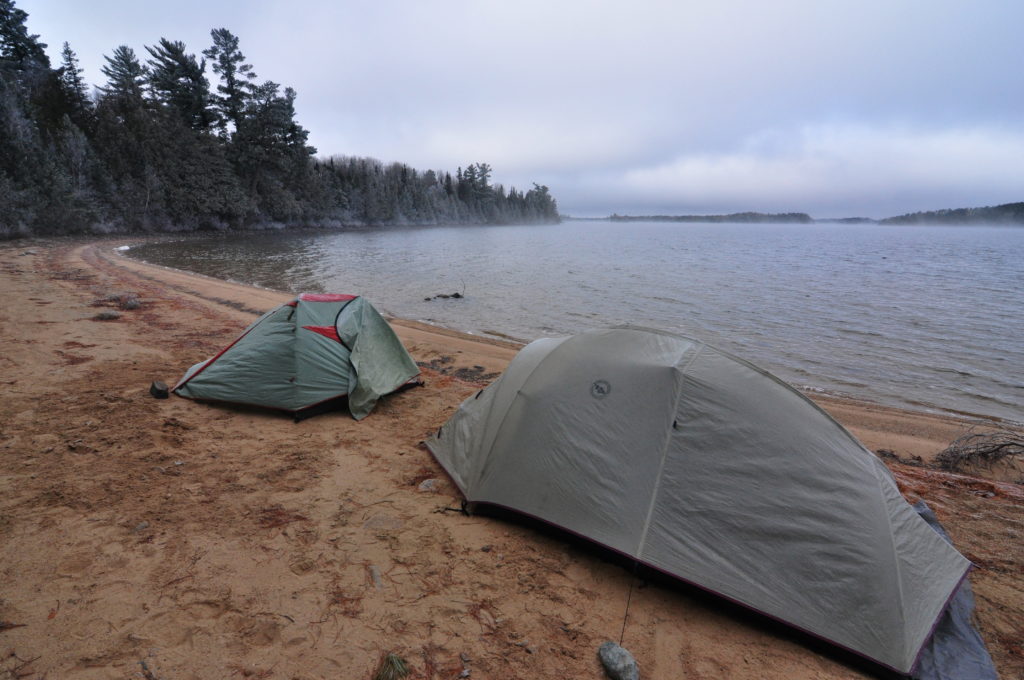 After two days of hiding from the soaking rains we anticipate a big day. We are antsy to make up some ground. The day of course starts gray and cold, but it is windless and dry. Quickly we cruise east and after a short portage and paddle settle in to a kilometer long carry alongside the Darky River. It is the longest haul since bumbling through the mess south of Trant Lake two weeks ago. Along the way our breathing deepens and we can taste the fragrant damp decay of late fall. As we reach Brent Lake and the end of our haul a single bead of sweat slides down my forehead and drops from the end of my nose. It feels good to be alive this morning.
Brent Lake is long and winding with a couple of larger expanses of water on its east and west end. We decide to troll through the narrow mid-section of the lake in hopes of dinner. Within minutes my X-Rap has snagged and I start back paddling. Upon picking up my rod I notice a different sort of weight on the line. I decide to set the hook and immediately my drag is buzzing and line is flying off my reel. It must be a monster pike. The fish slows and I gather myself and begin slowly working him back in. It is dead weight at this point and it feels as if I'm hauling in a marlin. I've managed to retrieve half my line when he decides to take another run and in an instant he's gone. There's no let down more instantaneous than feeling that much weight vanish in a flash, and for a second I think I might cry. As I wind in 50 yards of limp line I swear off fishing. It really is a pointless endeavor I tell myself, a complete waste of time. Screw that fish, I hope he chokes on that lure. It probably wasn't that big anyway. Who am I kidding, it was a monster, world record most likely, and I had to go and mess with the drag. I'm an idiot, I'm a pathetic excuse for a fisherman, a pathetic excuse for a man. Take a deep breath, get a grip and know that it is only a fish. As the sheared end of my pitifully flaccid line comes into view I pull out a new snap swivel and start thinking about possible lure selection. I snap on a copper ¾ ounce daredevle spoon and flip it behind the canoe and continue trolling. We pick up speed and the line goes taut. Within minutes the rod tip twitches then quickly doubles over from the weight. As I reach down to set the hook I think about all the times I've sworn off fishing.
Towards the end of Brent we stop and enjoy a floating lunch while watching a family of otters swim in and out of the rocky shoreline. After two short portages out of Brent we find ourselves on the windless waters of McIntyre Lake. The sun makes a brief appearance as we push south along boulder strewn shorelines. Above, towering red pines glow in the late afternoon light. In minutes the warmth seems like a distant memory as a light drizzle falls from one sociopathic cloud. We've got one more portage in us and we carefully climb down a steep trail into Sarah Lake. After passing several sand beaches we settle on a nice island site on the south end of the lake. Dead cedar abounds and we enjoy an evening enveloped in sweet smoke. A dense fog rolls in rendering headlamps useless, ushering us to our tents. I am exhausted from the long day, but it feels good be moving again. Within seconds of lying down I am asleep and spend the night dreaming of lunkers.

Upon waking we find the previous evenings seemingly impenetrable fog has done the impossible, gotten thicker. Sarah Lake has disappeared. We slice our way through sheets of mist down to where the water was last seen. Even at the edge of the dead calm lake it's hard to distinguish water from sky. During our morning routine we decide to strike off into the unknown, with compasses of course. We aren't navigating a river this time, so what's the worst that could happen.
Slowly we paddle west towards our portage into Tuck Lake, and within seconds our connection with the real world vanished and we find ourselves dizzyingly suspended in gray soup. Up could be down. Left could be up. My eyes probe for something to anchor my existence on. It's best to keep moving. Although it is sickeningly disorienting, I feel incredible. It is the purest form of adventure I have ever experienced; pressing into a great white abyss completely unaware of what lies ahead. We all feel it. Like giddy YMCA campers we zig and zag our way towards, well nothing at the moment, but we don't care. Finally a darker gray silhouette takes shape in the distance. Our eyes follow the edge of a smooth round rock as it angles out of the water flattens then symmetrically sinks back from where it came. A single stunted pine clings to a crack and for a moment we feel like giants. Thoughts of wild bonsai trees are quickly extinguished when a larger island filled with regular sized trees creeps through the fog. Shortly thereafter the entire bay where our portage rests comes into view and I feel slightly disappointed.
I drift back in time to unfettered feelings of anticipation on Christmas morning. Bright lights dance across a pile of shimmering green and red packages; all with neat little bows, and to a child the possibilities are limitless. Twenty minutes later a jumbled mess of secrets lay solved and the feelings of excitement are diminished. Not that there was anything wrong with the presents I received or the bay I was paddling towards, it's just that the fleeting moments just before solving the mystery are more thrilling than knowing.
As we unload at the portage into Tuck Lake it feels good to know we are traveling in the right direction, and that I still know how to operate a map and compass. After a short flat carry we slip west and continue exploring a shrouded landscape. Overhead a single engine plane churns and I wonder what the world looks like from up there. The sun seems to have finally climbed high enough and built up sufficient energy to start burning off and breaking through the fog and color returns to our lives. After an unexpectedly steep climb out of Tuck we take two paddle strokes on a tiny unnamed lake and make the half kilometer carry into Kett Lake. The fog has all but lifted at this point and we paddle straight south on glass calm waters under dawdling fall clouds. Our pace quickens and we find ourselves panting up the last few meters of the portage into an unnamed lake out of Kett within the hour. We flush a hoard of ducks as we land at the 1250 M portage into Basswood and it takes them multiple laps around the 10 acre lake to escape the tops of the trees and us. We enjoy a quick lunch before making our way across the longest portage of the trip. Besides its length it is a surprisingly amiable path. Most of the northernmost section runs downhill(!) through trails worn into the lichen that sits atop slabs of bedrock. After navigating a nasty section around a massive flooded, then drained, swamp we drop again to the surprisingly motionless waters of Basswood Lake. Not surprisingly, within minutes of putting in, the old beast whirls up and starts blowing out of the southwest, impeding out progress and forcing us onto an island west of King Point and the old ranger cabin. We curse the dirty tricks of the lake that has become my nemesis throughout the past few years over an early dinner. Frustrated, we listen to the wind pick up as darkness sets in. I can almost hear a clownish laugh in the distance. It seems pragmatic for us to rise before the sun tomorrow to beat the winds so we call it an early night.
I lay in our tent listening to the wind and the night. We are close to finishing the second leg of this journey; one step closer to the end. Will I be one step closer to understanding when it's over? I can't say. I do know I will be a little closer to understanding why I am out here, and why I come back. It is the hunt for understanding that drives me forward; to find out what's around the next corner, to feel the unknown. For a moment on Sarah Lake, in the fog, it all boiled down to a simple truth. The mystery is more inspiring than the reality.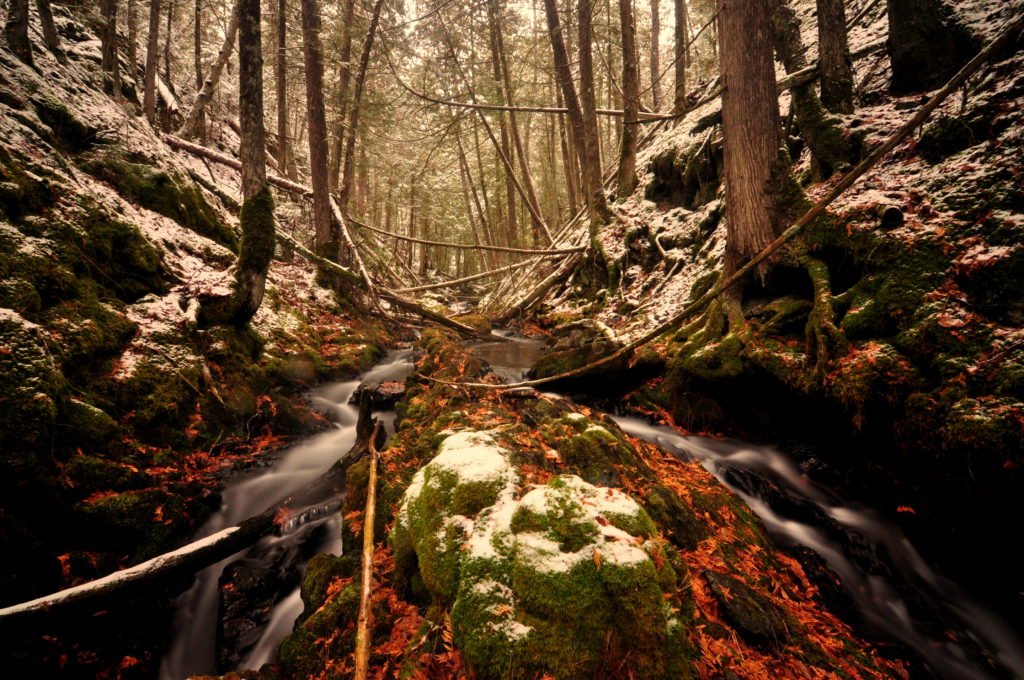 I wake and immediately listen for wind. We are running low on fresh supplies and the idea of resupplying in Ely has been driving us the past few days. Any hint of wind would be heartbreaking. Fortunately the winds diminished overnight and we go through the motions of breaking camp a little faster than usual to take advantage of the current calm. The sun is warming the horizon and hinting at daylight by the time we are on the water and heading towards Jackfish Bay. In the past I have paddled to Fall Lake, set up camp on Miles Island then hitched into Ely, this year we will be paddling right into Ely. I won't go into the details on how but Paige knows of an abandoned house in the woods near Ely that we can sleep in while visiting. We have not spoken of pushing for Ely today, but everyone is thinking it.
The sun rises as we pass through the narrows into Jackfish Bay. It is immediately swallowed whole by a wall of troublesome clouds and within minutes a cold determined rain dampens our gear and spirits. In our haste to vacate camp and beat the wind we waived coffee and a real breakfast, so we pull over and brew a pot before heading down the Range River. Apprehensively, we press on down the river hoping for sufficient water levels. Around the first bend a strange dark shape appears, as we draw closer it stands and sidles deeper into the woods. It slows for a moment and we see it; an imposing black wolf. It stares back over its shoulder and for a second we lock eyes, and then it disappears. I know about black cats, but what of black wolves? We ponder and paddle, finding water levels just high enough to stay in our boats. After a couple of short portages we find ourselves looking down the straightest, flattest portage I have ever seen. Obviously the portage between Range and Sandpit Lakes was once a grade of some sort. I jog the portage with a canoe. The morning's dreariness has subsided as we move briskly towards the section of the Range River that will make or break our date with Ely tonight. If the waters are high I see Ely, if they are low at the very least I see a struggle. The opening of the river is muddy and shallow, barely paddle-able, not a good start. After a few sharp bends we come face to face with a 5 foot wall of muck and timber. Somehow we always forget about the beaver dams, and generally I curse them, but after hefting loaded canoes to the top we look out at a different Range River and smile. The dam has stopped up this section of the Range and it is brimming with water. Unencumbered and surrounded on all sides by some of the largest Tamaracks I have ever seen we easily move up the river. It is a beautiful river, and it's right in Ely's backyard. A few more beaver dams are overcome and then just like that we are out of the "wilderness", at least it says so on the map; it could very well be the Cutty Creek deep in the heart of Quetico.
The day grows surprisingly warm as we wrestle with the remaining mile of the Range and its leftover vegetation from summer. As we make our way out into the open waters of Low Lake, we spot a cabin and feel closer to Ely than ever. Our route tracks us to the west and into the sun. Finally the subject of pushing for Ely before darkness is broached. The arms in the group hesitate but our stomachs make the final call. Burgers and beer now dangle in front of each canoe. We quickly eat dried fruit and jerky on the portage into Bass Lake. Robotically we put Bass Lake behind us and shortly we are making the long haul uphill to the parking lot and across the Echo Trail before eventually dropping gear next to Little Long Lake, exhausted. The sun has dropped behind another wall of clouds and we sense the day slipping away. Our stomachs growl as we pass cabin after cabin; all of them shut down for the winter. Nearing the end of Little Long Lake we realize we have to find a way over to Shagawa Lake as our map indicates no portages, and we settle on moving quickly through a closed summer camp and out to the road. Why isn't there a portage? The road runs straight downhill into the boat launch on Olson Bay on Shagawa Lake. We trot blissfully down the hill numb to the pain of packs on our backs.
Together at the water's edge we hear the hum of a far-off motorboat. On the hill above the din sits the warm glowing nest of humanity that is Ely. In the dying blue light of our longest day we point tired hungry bodies towards the inviting city in the distance, knowing what it holds.