Recently I have been attempting to temper unrealistic expectations of fall travel on the water in the Quetico-Superior wilderness.  While many of the photos and stories of perfect conditions you hear about on social media and in the news are very likely, the reality is that the weather in autumn is extremely fickle and good days should be cherished.  Over the course of three days on a Quetico trip a few years back we were witness to the common quick changes that occur in these parts this time of year.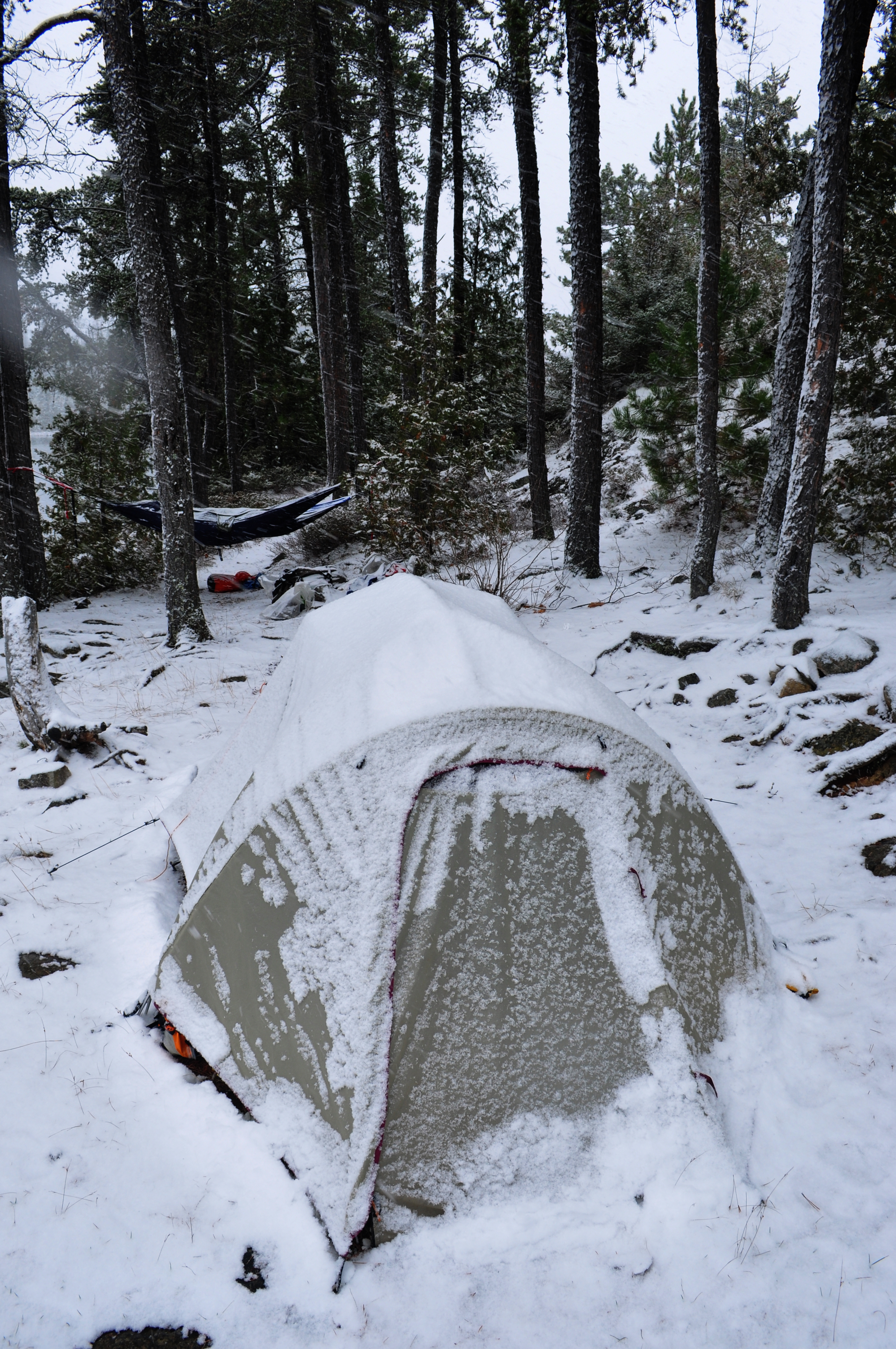 Oct 2 We rise with the sun and before long the day is warm. As the last drops of coffee drip, we notice a party of six moving Northeast up Saganagons. I really think the secret on October is out. Paddling through the falls chain the third time is not as thrilling as the first. I live vicariously through Tori my paddling partner to keep it interesting. She's a geologist and you can tell. At almost every portage landing I look up and find her crouched over examining rocks, sometimes down on hands and knees with a hand lens. The falls chain must look different to everybody, but I wonder what it looks like through the eyes of a geologist. As the sun climbs the little wind there is dies and again, I move through this part of Canada under perfect conditions. After the portage around Canyon Falls the idea for a swim is hard to pass up. We decide to make camp on the same site we occupied a year prior on Kenny Lake. A frozen pesto chicken noodle soup is reheated over a cedar fire as the day comes to a close. I anticipate the coming days as they will bring with them new lakes, unexplored territory. Wherever I find myself in Quetico I am happy, but I am happiest when I find myself somewhere new.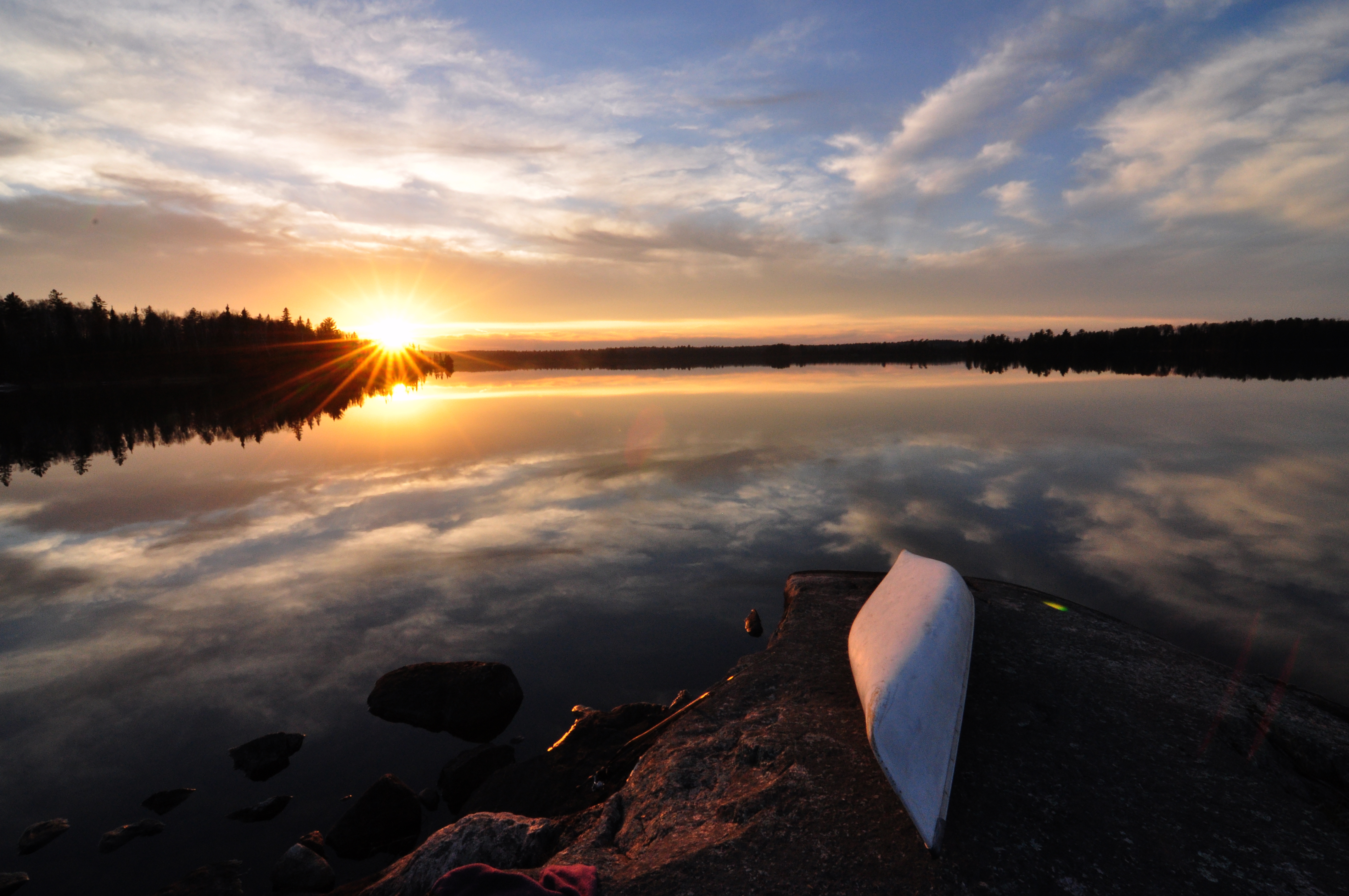 Oct 3 Our third morning is a copy of yesterdays. Once more our ensemble enjoys an unusually warm October day. Kennebas Falls provides the first and only portage of the day. A wrecked Bell canoe emerges from a tangle of cedar as we approach, just above the falls. It is a ghost of an awful experience, and we all quietly envision exactly how it met its demise. We glide up Kawnipi under clear skies, in between two worlds. The real one and the one perfectly reflected beneath us. As far as the eye can see there isn't a breath of wind. We meander to the Northwest, stopping frequently for pictures and fishing. At Rose Island we bear southwest, and begin considering campsites. Three different sites are investigated before we find a nice island spot. Paige and I head back out after camp is set up in search of dinner. On his first cast Paige lands a nice pike, a perfect accompaniment to Szechuan stir fry. As we paddle back to camp in dying light, the sun makes one last appearance. Birch and Aspen still bursting with neon yellow leaves are aflame in amber light. Deep crimson Maples sneak down the hillside before meeting their other worldly brethren mirrored in the waters of Kawnipi. Our cadence slows as the surreal scene engulfs us. Moments like this are ephemeral to the eyes, but permanent to the life of the mind. As the sun melts into the horizon we reach camp. Over dinner we crank the weather radio in time to hear the words "Winter Weather Advisory" before the robot fades into static. Conversation ceases and eyes widen as I search for better reception. Over the course of an hour we are able to piece together our dismal forecast. Heavy winds picking up out of the East, then South then Southwest throughout the next 24 hours, temperatures dropping, and accumulation of snow up to 3"-5". Standing in a T-shirt the weather robot warns of the dangers of "open areas." I pull out the map. There are quite a few "open areas" on tomorrow's route. We decide it wise to get an early start to try and get ahead of the southwest wind, and snow.
Oct 4 Gusts wake us early. Laying in our hammocks it is hard to tell from which way. It's gray, but surprisingly warm still, and we are happy to see the wind still blowing out of the East. By the time we reach the portage into Keewatin Lake the temperature is considerably cooler. We pass pictographs on our way to the portage into Hurlburt Creek. Unfortunately I do not corroborate the location of said portage on my Fisher map with my Chrismar, and find the Fisher wrong. Wrong enough that we have to back track around a point of land into a headwind. It won't be the last time I curse the Fisher maps. The portage from Keewatin into Hurlburt Creek is obviously not traveled very often. We reach the creek and notice the wind has stopped. We move down the creek under slate skies, which although the wind has died still move with speed. The eerie silence lasts only minutes, enough time for me to joke that it's the wind changing direction, at the same time we are. The joke becomes reality as we reach the shores of Williams Lake and to our horror realize the wind is out of the South, our direction of travel for the rest of the day. Williams and Payne Lakes are small enough that we only occasionally run into headwinds, its Hurlburt Lake that worries us. Hurlburt, four miles long running from Southwest to Northeast appears to be set up for perfectly funneling the gales that must be in excess of 30 mph now. We haven't seen a campsite since Keewatin, which is five portages back. The Fisher map shows one campsite on Hurlburt, about a mile down on the East side of the lake. It seems our only option. As we scramble over dried creek bed into Hurlburt Lake it starts raining. The northernmost bay of the lake offers some protection, and it actually doesn't look that bad. Tori and I move out onto the lake first. Quickly we are forced behind an island and the last point before we will be at the mercy of the windstorm. The red dot marking the site on our Fisher seems to glow. It's our only hope, our only sanctuary for miles, and it's so close. The time is now and we strike off into the churning mess. It is a quartering head wind, as luck would have it. The waves are manageable, but the gusts threaten to literally blow us over. We lean hard into the wind which must be blasting 50 mph. The far shoreline is reached and we find refuge behind a slight point, before heading back out directly into the wind in search of a home. As we inch along shore we reach and then pass the point where a site should have been. We stare shocked at steep rocky shoreline that climbs 10 feet before flattening into a jumble of downed Spruce and Cedar. There is no site. At the same time we realize what trouble we are in a gale slams into us and stops us dead. For a moment we actually move backwards. We muster strength that must only be allowed by the body for use in times of grave danger, and make it to another point just large enough to block some wind. To any observers (which I guarantee there were not) we must look ridiculous. As we catch our breaths, I feel tiny, insignificant. This storm doesn't care about us. Hurlburt could eat us alive and nobody would know. The idea to make our own camp is hard to deny, but we need an actual site that we can hole up at for a couple days, considering the forecast. I spend the next hour and three miles in a state of disconnection. I go to my happy place, trying not to think about the distance. Muscles and minds are pushed to their limits. Just one more mile, just one more bend, just one more point, finally just one more stroke. It's hard to believe it even possible to paddle that hard for that long, but we had no choice. The portage into Trant Lake offers a welcome break. Rain changes to heavy sleet as we hunt for a decent spot to stop. To the dismay of the group the first site is deemed unworthy. It is too exposed. I think we are all at the point of mental and physical collapse when we reach the next site on the map. Happily, we find it fits our needs perfectly. Plenty of wood, and a large flat area well protected from, well, everything at this point. Rain flies, tents and firewood are first orders of business, second, a healthy allotment of rum. As darkness and a winter storm settle in around us we dry out around the fire. Dinner is homemade chili, and lots of it. As the wind and snow persists, it becomes obvious we won't be going anywhere anytime soon. Considering it was one of the most taxing days in a canoe, it feels exhilarating to be set up in the heart of Quetico warm and dry, ready to withstand an intense fall snowstorm.