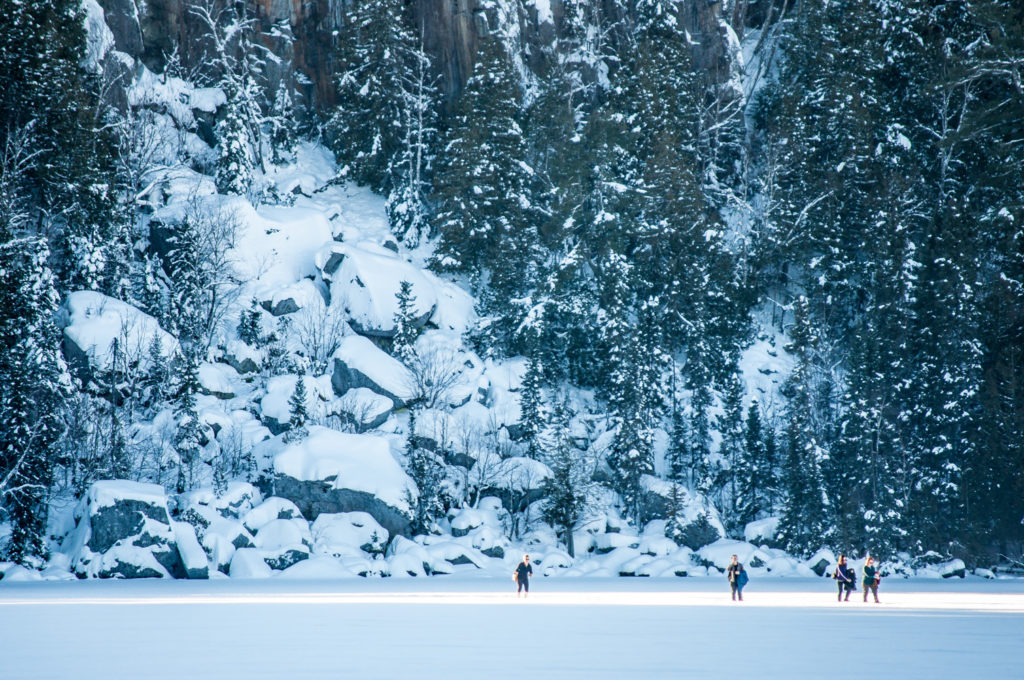 Over the years in talking with people on a daily basis in the summer about what we do up here in the winter I have come to the conclusion that what keeps most people from enjoying the Gunflint Trail and Boundary Waters in the winter is their fear of the cold.  Although I am not advocating that everybody jumps right into the deep end and head out for a week long camping trip in January in the heart of the wilderness there are some very basic things that you can do to enjoy more than five minutes outside during the winter months in the woods.  Don't get me wrong it can get cold in northern Minnesota during the winter (you don't say) but I think a day outside in the winter when you stay warm properly the whole time is more often more enjoyable than a day outside in the summer.  The number of things that can ruin a day on the water in the summer greatly outweigh the amount that can ruin a winters day.  I've never once slapped a spot on my ankle where a millisecond prior a biting fly with reflexes that of The Flash was just painfully suckling on a chunk of my flesh in the winter time.  I've never been rained on in the winter or been able to regulate my temperature to stay comfortable when its hot and humid.  I've never been wind bound for days in the winter.  The worst thing that can happen to you in the winter is get cold and while it can be more deadly than any of the summer annoyances you have complete control over whether you get cold or not.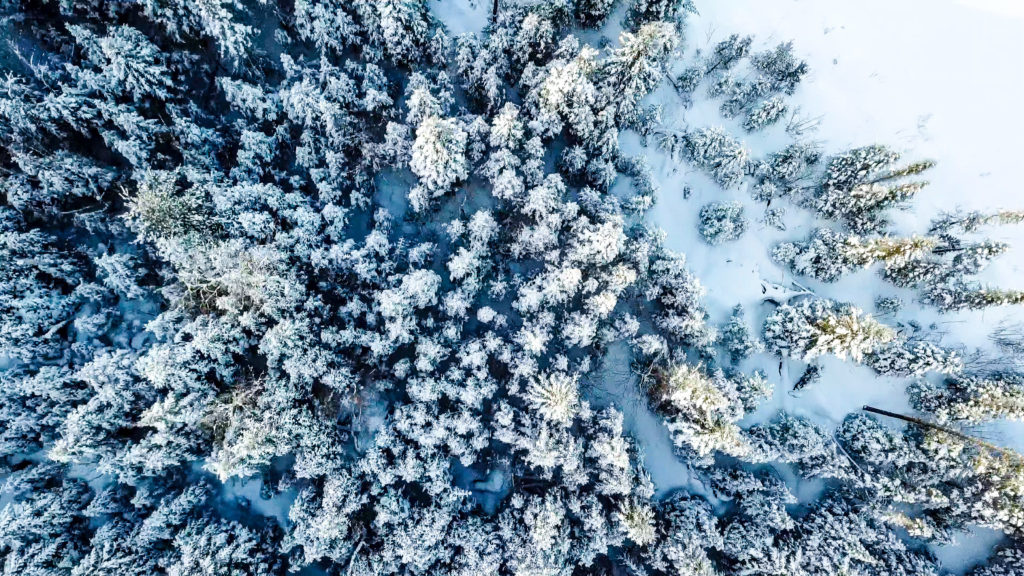 If you do any research or ask anybody about winter camping, or staying warm in the winter most likely the first bit of advice you will hear pertains to layering.  Everybody knows about the importance of layering the right materials (wool, synthetic, and down) but sometimes the reasons as to why it is important are overlooked or just assumed.  Utilizing multiple layers is a good way to keep from getting cold in the winter, but it's an even better way to keep from getting too warm and sweating.  If you're day outside in the winter consisted of being dropped at one spot magically and never moving it would stand to reason that one incredibly thick down and fur parka would be sufficient in keeping you warm, but if any bit of exertion is planned you need to layer.  Being able to doff and don hats, gloves, mitts, and outer layers throughout your day outside to keep from sweating is the main reason layering is key to a comfortable day outside.  The last thing you want to do during your 30-minute hike across a lake to where you will be spending the afternoon standing over an ice hole is soak your base layers in sweat, so paying attention to your body and cooling off before you start sweating is very important.  Sweating and moisture are your body's worst enemy in its effort to keep you warm throughout the day.  Sometimes it can be almost impossible to keep your feet from getting hot and sweaty during your daily travels in the winter and this is why you should always invest in winter boots with removable liners and pack an extra dry pair to switch into after you stop moving.  While we're on the topic of winter boots, I used to guide people on dog-sledding trips and have seen all kinds of winter boots and in my experience you can easily add 30 degrees to whatever temperature your boot manufacturer claims will keep your foot comfortable, and if it doesn't have a liner that you can pull out and it claims anything below freezing they're lying.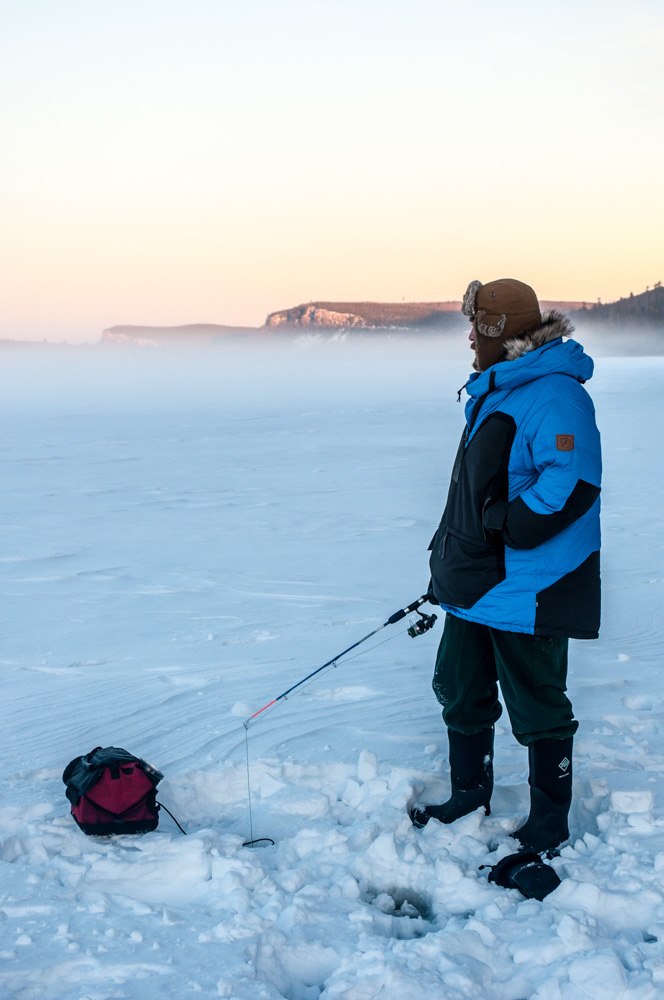 While layering the outside of your body with proper insulation is integral to a comfortable day outside in the winter it's nothing without putting something inside your body.  A day just standing in the cold burns more calories than many actual activities in the summer and you should plan on your diet taking the day off if you want to be comfortable.  If your day includes skiing, snowshoeing, and snowmobiling then you should really be starting the day off with a hearty breakfast and be prepared to eat more often throughout the day than you would otherwise. Think of your body as a well insulated (hopefully) house and that your stomach is a wood fire stove being used as the only source of heat, if the wood stove is left unattended the house is going to eventually get cold, and no matter how much more insulation you pile on top of the house it will never warm up.  You warm up from the inside, not the outside.  The source of fuel is important to keep your hypothetical fire burning longer, and while candy bars and sugar will burn hot, they will also burn fast, just like piling up a bunch of kindling and nothing else; not very efficient.  A more efficient and longer lasting fuel source is going to be fat, protein and carbohydrates (I'm looking at you cheddar smoked brats and buns) which would be comparable to your nicely dried hardwoods in this scenario.  While the analogy of your body and what you put in it is easily made with the house and fireplace I'm having trouble including the importance of water and staying hydrated without putting out the fire (how about staying hydrated makes for more efficient duct work throughout the house, nevermind).  Fireplaces and analogies aside staying hydrated in the winter is just as important as eating enough and it can be very easy to get dehydrated in the winter.  The idea of drinking water in the cold does not come naturally, so maybe warm up some water in a thermos before you head out and make tea, but nevertheless hydrate.
Sometimes there is just nothing that can be done about it and you need to accept the fact that maybe you shouldn't go outside today.  In terms of deciding to call off a trip due to conditions outside of your control it rarely happens in the summer, because honestly, what's the worst that can happen?  A few extra bug bites, passing rain-showers or head winds aren't going to kill you (capsizing in cold water notwithstanding).   Never let your ego decide to head out into winter conditions you're not comfortable with, especially if it's your first time to a certain area.  On top of checking the weather always check travel conditions on the lakes and trails and stay closer to shelter or vehicles if the weather is extremely cold, or windy.  Although most would assume a forecast of temperatures -20°F to -30°F below would be the most dangerous, if you follow the basics I laid out it is actually just as easy to stay warm as it would be at 10°F with extra precautions to cover up exposed skin.  More dangerous than negative temperatures are the ones that hover right around freezing, because it is extremely hard to stay dry, almost impossible if there is any kind of precipitation.  I've found myself more uncomfortably cold at a rainy 35°F than any other temperature.  The untouched, quiet expanses of the Boundary Waters in winter are well worth all of the extra precautions one needs to make to stay warm.  What are you waiting for?