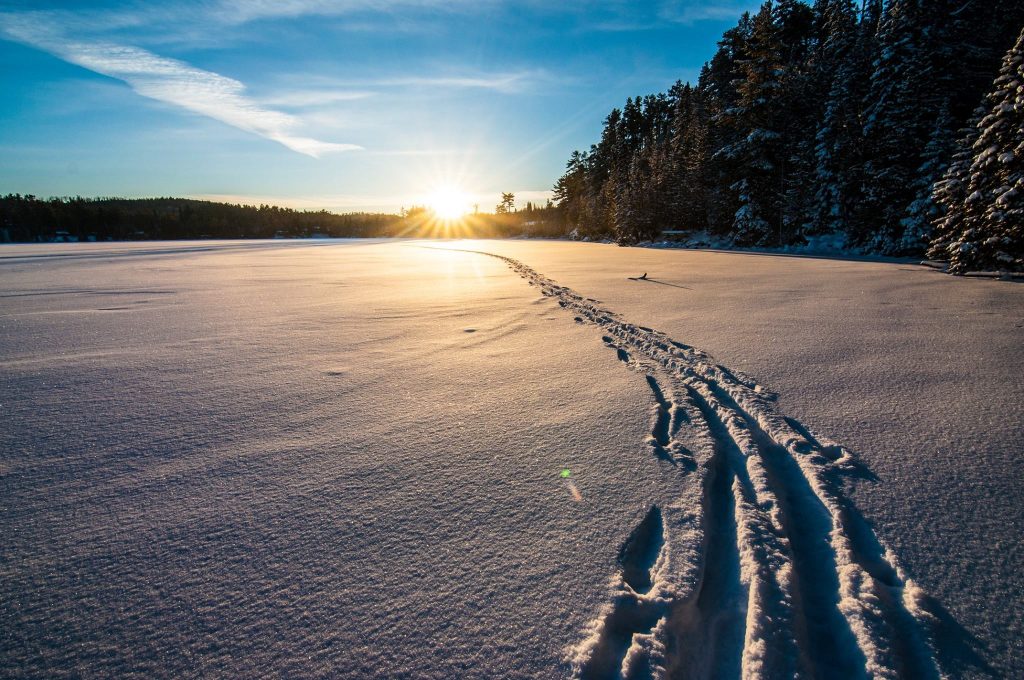 Winter on the Gunflint Trail is a special thing and just being here can be enough, but when you want to get out into the pristine cold there is no better way to explore it than on cross country skis.  In a world where actually finding snow is getting harder and harder the groomed cross country ski trails in Cook County and the Gunflint Trail almost always have enough throughout the winter to work with.  As somebody who has skied all over the United States I can say that the people who groom these trails are second to none and consistently provide world class conditions.  Whether it's your first time on skis or you're training for the American Birkebeiner there is a trail in the area that will suite your needs.  Starting from Grand Marais and working up the Gunflint Trail we'll give you an idea of what's out there.  Keep in mind that multiple different ski passes will be required for different trail systems, check with local resorts and business for the most up to date requirements.
Pincushion Ski Trails
These 25 kilometers of mostly easy rated trails offer some of the best views on Lake Superior in the state, though there are a couple of short difficult rated trails.  Perched above Grand Marais and the Devil Track River this area offers both classic and skate style groomed trails.  The trails are very wide and very well used.  The Great Minnesota Ski pass is required to ski here.
George Washington Pines
Just six miles outside of Grand Marais you'll find this easy 3 kilometer loop in an incredibly beautiful stand of Red Pines.  What it lacks in extensiveness it makes up for in aesthetics, some parts of this trail are what your minds eye imagines when planning your day on skis.  No ski pass is required to ski here.
Central Gunflint Trail System
With over 75 kilometers of expertly groomed ski trails maintained privately by both Golden Eagle Lodge and Bearskin Lodge this system is truly a gem.  About 50 of those kilometers are groomed for skate skiing as well.  There is a little bit of something for everybody here, but the trails do run closer to intermediate/difficult.  As an added bonus lit trails are available at both lodges for some magical night skiing.  Ski passes are required and available at both Bearskin Lodge and Golden Eagle Lodge.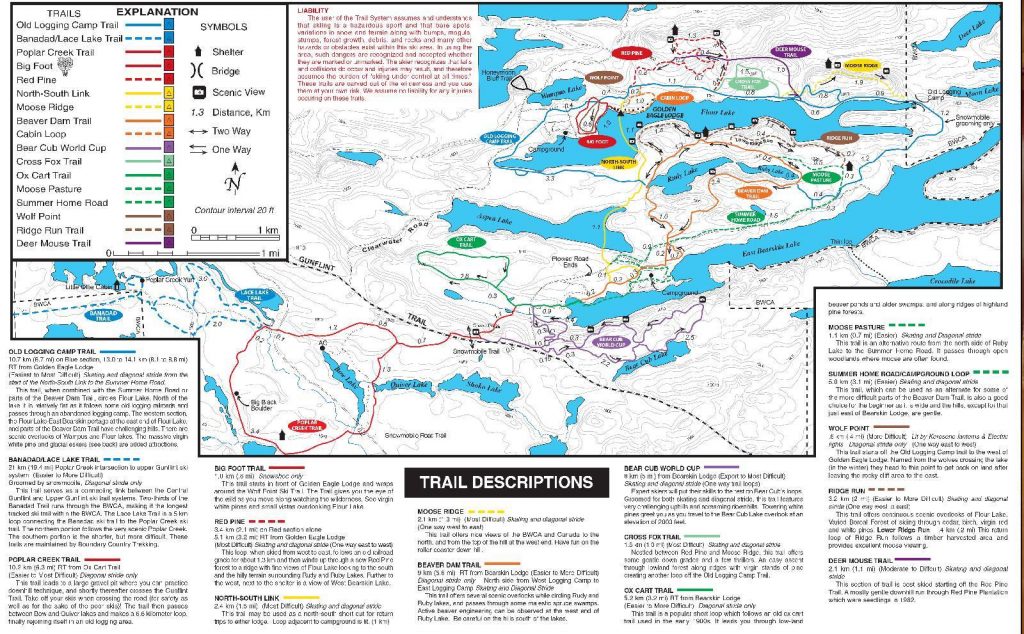 Banadad Ski Trail
Clearly the most unique trail system in Cook County with 27 of its 38 kilometers running through the Boundary Waters Wilderness there isn't a trail like it anywhere else.  While there are multiple loops just outside the wilderness what makes it truly special is the single tracked trail that connects the central system to the upper system.  Considering its remoteness and lack of exit points be mindful of your abilities, and consider skiing yurt to yurt to break up the distance.  The Great Minnesota Ski pass is required to ski the Banadad.
Upper Gunflint Trail System
There are 47 kilometers of looping trails here, with some of the most spectacular ones running atop the ridges that tower over Gunflint Lake.  These excellently maintained trails require a ski pass that can be picked up at Gunflint Lodge.
Upper Gunflint Trail System Map
Back-Country Skiing
"Trails?  Where we're going we don't need trails."  When the urge to break off the shackles of immaculately tracked ski trails becomes too much, it's time to make your own trail and the best place to do that is on the lakes.  Keep in mind lake conditions vary greatly, and depending on snow depth and slush your picture of magically jouncing atop perfectly packed untouched snow can turn into a dreadful slog through knee deep drifts and cement like slush.  Always check with the local businesses before heading out, or you could just give us a call.