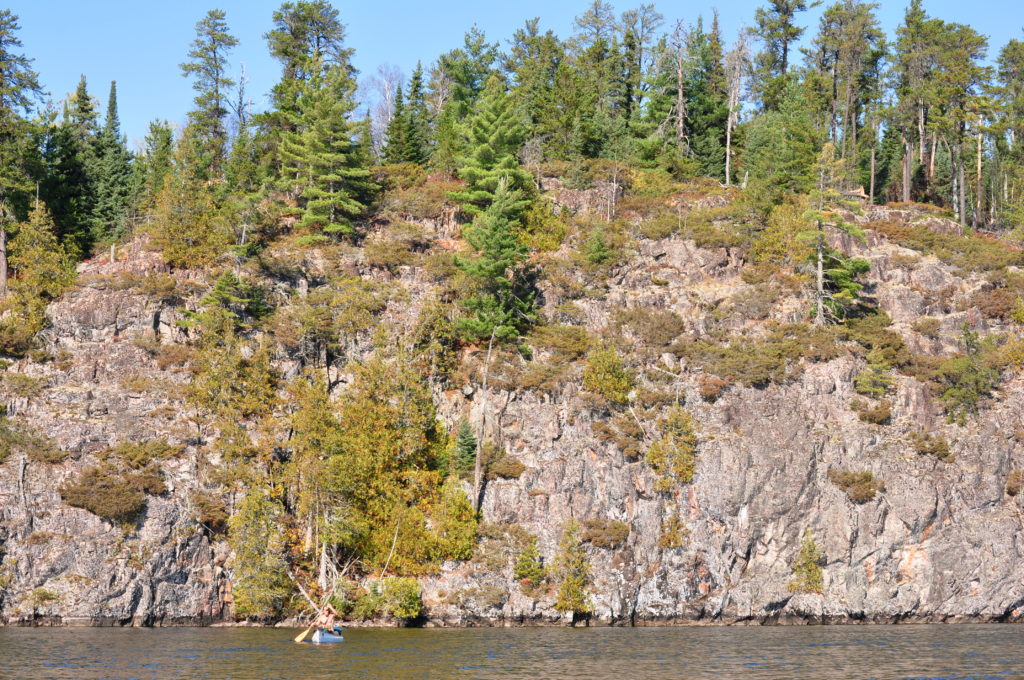 Even though the days grow longer, we are still in the throes of a an interminable winter.  Thoughts of soft water, warm nights and new routes through the BWCA and Quetico increase as we draw closer.  The mind travels, but unfortunately the body cannot follow, yet.  At best we can relive old trips, and plan new ones.  The best part about keeping a journal during Boundary Waters trips is enjoying them on as cabin fever sets in.  Even entries involving driving rain, heavy winds or wildfires entice when the thermometer barely cracks freezing.  Maybe some of my experiences will stir your imagination in planning this summers adventure…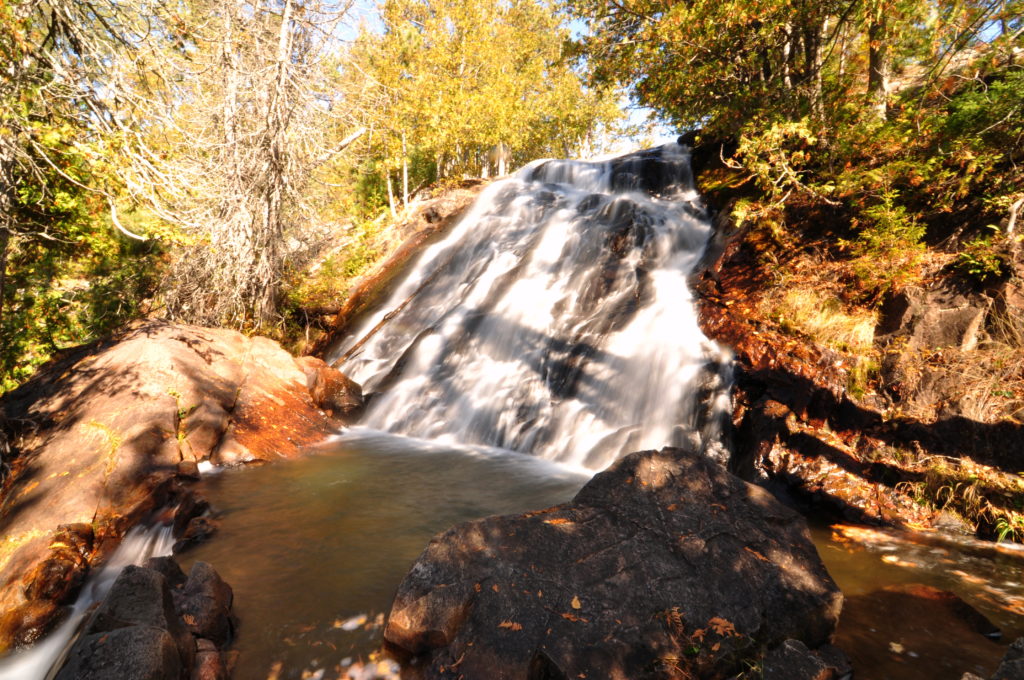 It has been a long hard day of travel for the three wise men today. From Kenny our route brought us into McEwen by way of a 1260M portage, with a steep climb halfway, it made for a rigorous start to the day. A white sand beach welcomed us at the bottom of the portage. We all stripped down and cooled off in the crystal clear waters of McEwen. Temperatures in the 70's again and winds out of the East made for easier paddling down the length of this wild gem of a lake. Fall colors abounded on the West shore of the lake as we cruised the four mile length of the lake.  Upon reaching the southernmost terminus of McEwen we entered its self-titled creek. An overgrowth of weeds and low water made for challenging paddling, although the scenery was stunning. Yellow Tamaracks and towering cliffs surrounded us on all sides. A few short portages around cedar choked creeks brought us to Turn Lake, and lunch. At this point we realized time was not on our side and pushed hard for Fauquier Lake. Five portages later we found ourselves on its glass calm waters, the sun just behind the pines, searching for a site. After probing Fauquier's shoreline for a North facing site to no avail, we settled on an elevated site (seemingly the only site) facing South. Warm evening temperatures make it feel like July out here. We enjoyed chili in T-shirts for dinner. More hot temps seem to be in store for us as we push for Agnes Tomorrow.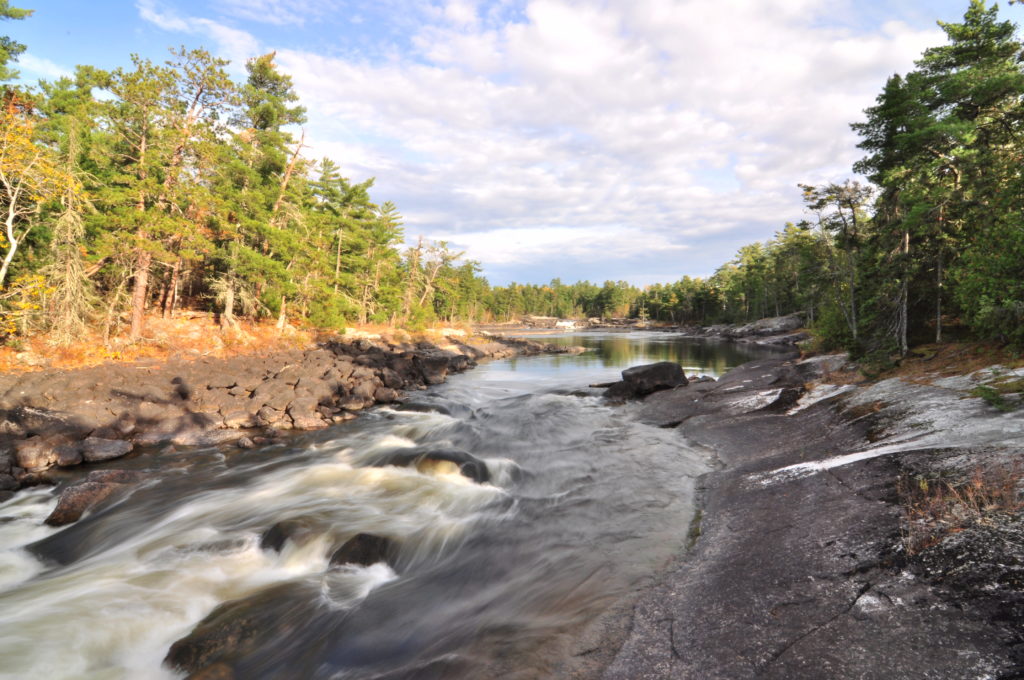 Sitting on a spit of rock gazing north down the massive beauty that is Agnes Lake, I reflect on the day. The sun is just going down over the trees and I do not think I have gazed down a lake this large and this gorgeous. It has been our best site yet. This morning on Fauquier we were awoken by the not too distant howls of wolves. On our way out of the Fauquier we portaged thrice into small trout lakes before coming to Louisa Lake, one of our favorites thus far. We saw our first group today, a threesome out day-tripping. The paddle down Louisa was sublime. The kindly giant of a lake granted us unusually placid passage. "No shoes, No shirt, No service" is apparently a foreign concept to Louisa as we paddled under the midday sun.  We had lunch and a swim at Louisa Falls (on October 6!). "The Bathtub" is aptly named as it drops 30 feet into a nice deep pool before dropping again into Agnes Lake. The water in Louisa Falls was frigid was refreshing from the heat of our "Indian Summer". It must have been in the 80's today. I can't imagine very many people have been swimming in her waters in October. Up Agnes, our biggest lake of the trip, we had a nice tail wind out of the south. We took full advantage of it by lashing our boats together assembling a rain fly as a sail. Standing in the stern of the MNII holding both paddles affixed to the fly and bracing against the gusts while Paige ruddered we cruised four miles up Agnes in under an hour. Feeling the power of the wind in my hands and in the paddles was invigorating. The same winds that drove us towards Atikokan also brought with them the smell of smoke and hazy skies. It is hard to say where they are from. Pagami Creek still? The simple pleasure of sailing two canoes down an enormous body of water is better than anything you can buy out there. A sense of relief washed over us as we came up to a point on the map we hoped to find a campsite, and did. And what a campsite it is. A 270 degree view up Agnes with water as far as our eyes could see made way for the first real feeling of being "out there". Thus far we have had fairly strenuous travel, parts of which I cursed and hated, but there is nowhere else I want to be.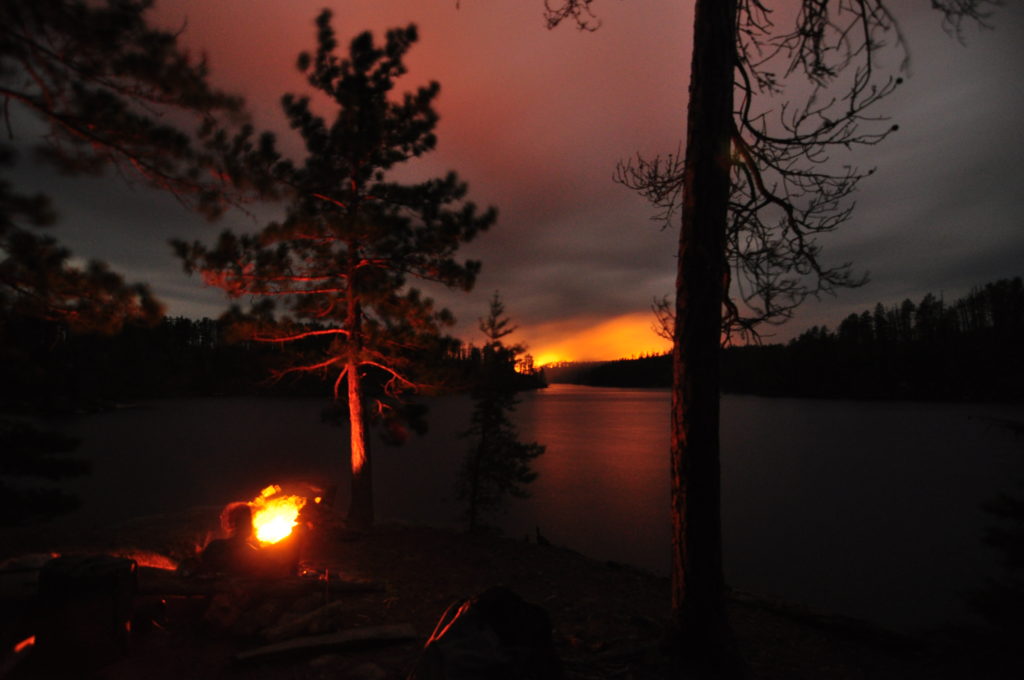 Without a hint of collegiate hyperbole I must say the last two days have been epic. These were days I will remember forever. We would watch a wildfire burn on the lake we were camped and then portage through it. First, let us begin at Agnes where we last left off. Knowing that we most likely would be inundated with heavy winds from the South, the idea to vacate our campsite came easily. We were on the water as the sun was rising. Sure enough, after a short paddle the winds picked up and upon arrival at our portage into Silence lake we were riding 2 foot rollers. Turning south onto Silence Lake we met our first real challenge on the water. A decent headwind made for a tough paddle to the Sultry Lake Portage. On returning to our canoes after hauling packs over we found our MNII floating back towards where we had come from on Silence. I took off in the solo boat and caught it on the West shore, before it could head down the length of the lake. We made our way through Summer and Shade, where we had an early lunch. During lunch we noticed the top of a smoke plume in the general direction of our afternoon's travel. Thinking it was nothing more than a distant fire we pressed on. Through a couple of smaller clear lakes and two brutal portages we arrived at the shores of Shan Walshe Lake. The smoke seen a couple hours prior was now much closer, to our west and north. We had read the McNiece/Shan Walshe area held beautiful stands of virgin pines, but to our dismay we found most of the area denuded from recent fires. We portaged into McNiece with ominous ambition. The smoke was close, but how close. Upon paddling around the bend on the high sided, horse shoe shaped McNiece we searched for the genesis of the smoke, and found its origins. It was burning our only way out of McNiece, the portage into Kahshahpiwi. The decision to paddle closer came slowly, but curiosity pushed us on. Flames were seen on the ridge north of our portage and plumes of smokes emanated from the entire shoreline. With sustained winds in the 20 mph range and gusts twice as much it wasn't a surprise to see such fire activity. The one campsite on the lake that offered a view without being too close was taken. We figured backtracking into heavy south winds late in the day to Yum Yum Lake was not an immediate option. Keeping an eye on the fire, which was about a mile to our west, seemed the only option. The day grew long and in uncharacteristic fashion the winds picked up. We cooked dinner as trees snapped and crashed to the forest floor in the distance. The pike picked up by Paige on Shan Walshe was fried and introduced to refried beans and fresh guacamole at a party called fish tacos. One of the best meals we have had on trail yet. Once darkness set in the wildfire set off an eerie orange glow on the hillside above it. We were pretty sure the fire was just on the other side of a ridge we could see, but the fire was moving incredibly slow. After watching the same unmoving glow for two hours we figured nothing more would come of it. At that point the fire made a run over the ridge towards us and we finally had a clear view of flames. Trees were vividly seen going up in 20-30 foot flames. The forest was on fire. Never have I sat so close to such an event. The fire slowed as it made its way down the steep hill towards the lake, but we kept an eye on it. At this point the idea of a late night evacuation seemed slightly more real, but the idea of portaging in the dark kept us in camp. Never before have I considered how much of a difference the decisions we had made that day could have made and whether they were right. There had been multiple opportunities throughout the day to move away from the fire. Seemingly we had set ourselves up in the face of a dangerous, impenetrable force, with the only real route directing us back the way we had come. It was a helpless feeling.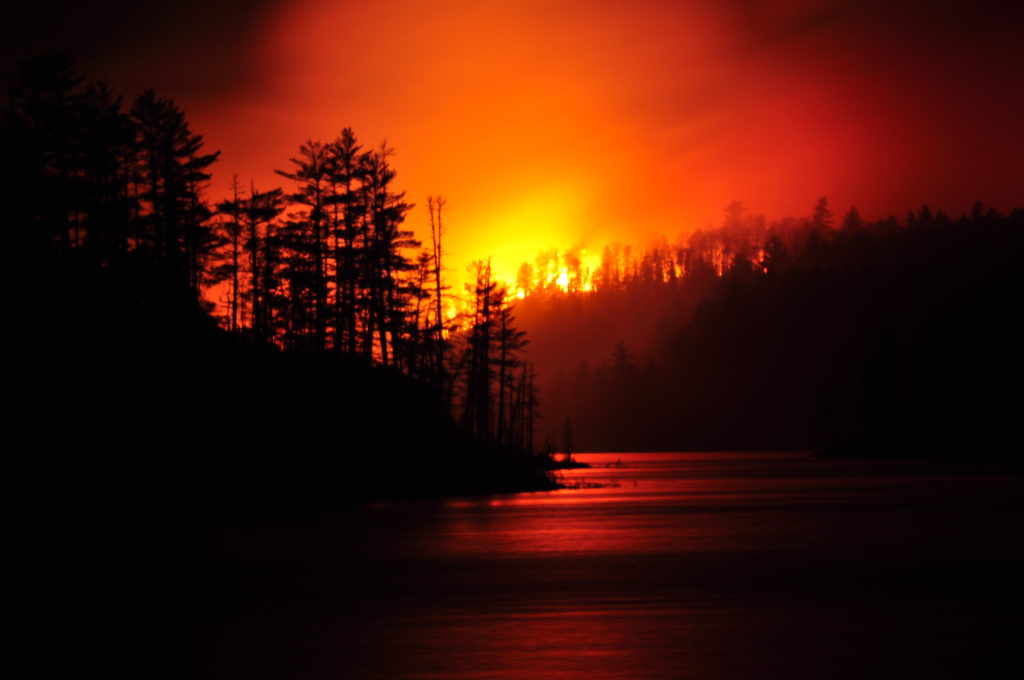 As we prepared for rest in the hammocks under rain flies the thunder and lightning began. Shortly thereafter it started raining. It rained hard. The water in the cast iron skillet indicated we had received over an inch of rain overnight. Our previous night's wind had died and we awoke to calm water and undecided gray skies. Smoke was still visible from the opposite end of the lake, though much less in volume. We packed and decided to have a closer look at the easiest way out of McNiece. The closer we paddled the clearer it became that the fire had essentially burned right through our portage. With a haze in the air reminiscent of a movie set we investigated the shoreline and first portion of the portage. Lacking a proper decision on the danger of the 200 rod portage we hoisted packs and surged through the blackened landscape with fervor. Fire had scorched everything but the portage path itself. Wet yellow leaves and a shallow trench made it somehow visible. Smoking logs and downed trees created a surreal scene. Large parts of the portage had to be circumvented in order to avoid massive downed red and white pines.  We came up onto the crest of a slight hill to find entire trees still ablaze, no more than 10 yards off the trail. One tree in particular was still standing, with a steady fire burning it from the inside out. We horsed our way through treacherous terrain as the sun grew hotter and winds picked up out of the south. On the second run through to pick up canoes we noticed portions of the woods now aflame that had not been minutes before. As we all reached Kahshahpiwi we realized how crazy the portage had been. We were relieved to be on safe water again. As we paddled north the smoke in the woods behind us seemed to grow, and I'd like to think we made it through just in time. Winds persisted up Kahshahpiwi out of the south making for an easy, speedy day of paddling. We cruised up Keefer and Sark in a little under two hours. Upon reaching our site on Cairn we had covered 17 miles, the longest day yet. We are sore, scraped, sweaty, blackened, bruised and bloody, but spirits are high and tomorrow will bring us closer to our first objective, the town of Atikokan.