Join us for our Centennial Celebration
100 Years of Outfitting!
Clearwate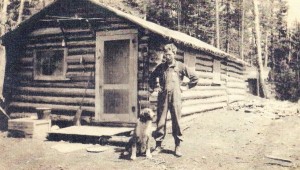 r Historic Lodge and Canoe Outfitters is the original outfitter and lodge on the Gunflint Trail in the beautiful Boundary Waters Canoe Area of NE Minnesota. Founded in 1915 by Charlie and Petra Boostrom, they chose Clearwater Lake because they believed its view was the best on the Gunflint Trail. Today, our lodge is the oldest and largest free standing hand-hewn log structure in the region and is listed on the National Historic Register.  Our 9 rustic, yet beautiful cabins — each with lake views — are the perfect summer home away from home. For shorter stops on your way through the Gunflint Trail, stay in our quaint bed-and-breakfast suites or rooms. We also have bunkhouse accommodations–perfect the night before a canoe trip through the BWCA. Guests have enjoyed Clearwater's beauty and hospitality for 100 years, and our commitment is to preserve it for guests to enjoy for another century.
774 Clearwater Road Grand Marais, Minnesota, 55604, United States
(218) 388-2254 | 1-800-527-0554
info@clearwaterhistoriclodge.com
Read our recent reviews from Trip Advisor
This Summer I used Clearwater for the third time to outfit our trip through the Gunflint. As someone who has worked guiding on the Ely side, Clearwater NEVER disappoints. They are the best outfitter and lodging service in the BWCA in my opinion. They are flexible, friendly, and most importantly knowledgeable. The prices are more than fair and you can't beat them for what you get in return. As always, they did a fabulous job!
Kate H, Kenosha, Wisconsin
"Another route, Another Success"
"My husband and I traveled here for a week long visit. We stayed in one of adorable guest cabins with our two little dogs. We had a wonderful time at the Clearwater Lodge. We went fishing, hiking, portaging, and sight seeing. We loved the staff, food, and casual, comfortable environment. We will be back next fall for our new annual get away. Thank you for helping us create special memories at a very magical place. Our view from the bedroom window was breathtaking and made us feel happy every time we looked outside. I think we enjoyed the serenity and quietness the most. We went during a cold and rainy time so the grounds were quiet and private. I can imagine during the summer months a lot of families with children would be traveling here and we would be writing a completely different review. As a suggestion it might be a good idea to alternate adult and family weeks to accommodate all of your guest and their many preferences."
Iwasko
"Wonderful fall escape"
This was truly a premium experience. My family had an amazing time at Clearwater Lodge. The staff was extremely helpful in assisting us with our outfitting needs and giving us a few tips to enhance our boundary waters adventure. The location and the accessibility to the BWCA is the best in the area. We look forward to returning to Clearwater again, and again, and again... http://www.tripadvisor.com/ShowUserReviews-g60837-d219659-r246266172-Clearwater_Historic_Lodge-Grand_Marais_Minnesota.html#
chad g
"Premium Experience"
Returned to Clearwater after a three year hiatus in Oct 2014 to do a solo week canoe loop out of Clearwater -> John/McFarland -> back to Clearwater (~30+ miles) and Eric was very helpful for the outfitting. When I returned I stayed a night in the historic lodge and it was as perfect as ever. The pancakes and sausage were as fantastic as I remember and I was so happy they decided to stay open in October. Hopefully October 2014 generated enough business to do it again in 2015. I recommend you choose Clearwater for any of your outfitting needs: Beginner, Intermediate, or Advanced; they have it all and can help you design a trip suited to you and your families needs.
Craig B
"Outfitting and Lodging"
We had the pleasure of staying in Charlie Boy's Cabin. It was clean and well appointed. The setting couldn't be more pleasant or serene. The staff at the Lodge is friendly and very helpful. This is a great place to stay. We will be back.
Juli K
"Beautiful Historic Lodge"
"This place is amazing. A historic lodge and cabin set up with full outfitting. The staff is more than accommodating and knows what they are doing. The lake is amazing and borders the BWCA. Paddle in or boat in. Great fishing is a portage away on several lakes as well. Evening camp fires are great. Fresh baked goods from the kitchen also amazing. A very quiet atmosphere and surrounded by nature. The best on the Gunflint Trail for sure. The weekly history talks from a well versed lady who grew up in the good old days at the lodge after her father built the lodge and cabins. Everything is amazing."
hood12 Mt. Hood Oregon
"The best Lake and history"
"Charlie Boy's cabin(cabin 8)...what a lovely place. So quite and relaxing with a great view of the lake. We had a wonderful stay! Highly recommend the canoe trip to the Palisades and hiking to the top. Awesome place to take photos and the views are amazing. This place in fall must be gorgeous!"
jodik1967 - Roberts, Wisconsin
"Clearwater Lodge vacation"
"Our stay was wonderful. Cabin One was the perfect size for our group of 6. This historic cabin was authentic yet comfortable with its' updated bath and kitchen, and the beautiful gas log stove took the chill off the occasional cool June evenings. We enjoyed the canoes, fishing boats, stand-up paddle board and fishing poles and all were like-new condition. Thanks to Eric's outfitting expertise, the fishing was fun and very productive. The staff were very helpful and genuinely great people. We have stayed at larger Minnesota lodges (Ruttger's on Gull Lake) and found our stay at Clearwater Historic Lodge superior in style, comfort and authenticity. Truly beyond compare!"
DoakPhillips - Columbia
"Beyond Compare"