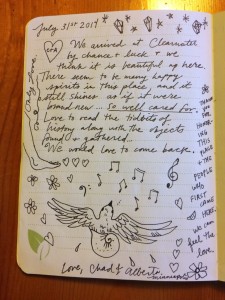 We've been helping guests explore the BWCA and relax on the Gunflint Trail since 1915.  Since this is 2015, it means our centennial summer is upon us. Time for reminiscing!
Enjoy the inspiration that sings out from this recent 2014 guest book entry.
* * *
"We arrived at Clearwater by chance & luck & we think it is beautiful up here. There seem to be many happy spirits in this place, and it still shines as if it were brand new….so well cared for.  Love to read the tidbits of history along with the objects found and gathered…we would love to come back. 
Thank you for honoring this place & the people who first came here. We can feel the the love.
Love, C & A – Minneapolis"
*******
From the Clearwater Historic Lodge & Canoe Outfitters guestbook archives.