Clearwater Historic Lodge and Canoe Outfitters Employment Opportunities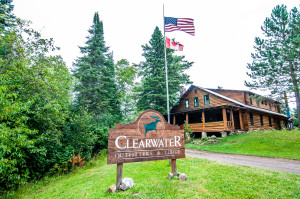 Clearwater Historic Lodge & Canoe Outfitters is looking for summer help who are passionate about the outdoors and customer service.  Duties will be mainly housekeeping based; other duties may include retail sales, restaurant help, kitchen duties, outfitting assistance, shuttle service, maintenance and yard care.
Dates of Employment: May 14, 2016 – August 15, 2016 or later
Wages: $1400 per month plus tips
Room and Board: Included
Completed in 1926 Clearwater Lodge is the oldest and largest free standing whole log structure in the Midwest and is listed on the Nation Historic Registry.  The business itself has been operating since 1915 and is the original outfitters of the Gunflint Trail.  Along with the lodge and outfitting we also offer 9 lakeside cabins which capture the spirit of the north woods.
We are located 26 miles north of Grand Marais, MN, halfway up the Gunflint Trail, in the heart of the Boundary Waters Canoe Area Wilderness.  Clearwater Lake itself is an entry point into the BWCA.  Due to our remoteness we cater to the type of guest who wants to take a break from the incessant connectivity of the 21st century lifestyle.  We look for the same sort of person in our staff members.  There is no TV and no cell phone service on the Gunflint Trail and the internet connection is slow at best.  If you don't think you can handle a summer away from the conveniences of modern life then this might not be the position for you.  Although, if you can appreciate slowing down, disconnecting and heading out for a day of fishing or hiking in the heart of an untouched wilderness, then we'd love to hear from you!
Send resumes to: info@clearwaterhistoriclodge.com
218-388-2254  I  800-527-0554
www.clearwaterhistoriclodge.com